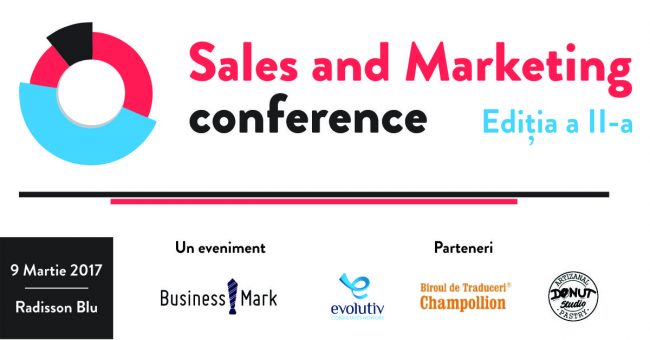 Singura constantă în business este că nimic nu este constant. În cazul în care planul de marketing și vânzări pentru 2017 este "aproximativ la fel" cu cel din anii precedenți, sunt șanse mari ca la finalul exercițiului financiar cifrele să nu arate îmbucurător.
Companiile performante sunt cele care se adaptează continuu tendințelor pieței și care provoacă status-quo-ul, pentru a construi experiențe interactive de tip "buyer-centric", cu scopul de a accelera conversia lead-urilor și de a crește încasările.
Astfel, în cadrul celei de-a doua ediții a "Sales & Marketing Conference", ce va avea loc pe 9 martie 2017, la Hotel Radisson Blu din București, vom aborda principalele provocări întâmpinate de specialiștii în vânzări, business development și marketing, importanța alinierii unei viziuni strategice la nivel inter-departamental, ultimele practici și instrumente utilizate de companiile lider de piață.
Printre temele ce vor fi dezbatute în cadrul conferinței, se află:
Tehnologizarea și schimbările pe care le-a generat la nivel de procese. Cum integrăm eficient instrumentele digitale în strategia de sales & marketing?
Customer centricity și abordarea 360˚ la nivel online & offline. Expunerea digitală a brandului și creșterea ROI-ului: big data, customer interaction & touchpoint, customer insights
Cele mai importante trend-uri în B2C. Importanța adaptării la complexitatea unui sales cycle modern, utilizând direcțiile date de o strategie de marketing aplicată
Provocări și presiuni inter-departamentale: atingerea targetului de vânzări, bugetarea, "sell the price" vs. "selling price". De la aliniere la integrare: bune practici, perspective și oportunități
Digitalizarea și dezvoltarea mediului și comerțului online. În ce măsură a influențat acest lucru dinamica din relația departamentelor sales și marketing?
Cum poate CEO-ul să susțină o bună comunicare între sales și marketing. Importanța alinierii inter- departamentale și a raportării către general management: bune practici și oportunități
"Agile selling": cum marketingul și vânzările se pot adapta mai rapid la feedback-ul primit în timp real de la cumpărători. Platformele omnichannel și identificarea celui mai eficient mix de canale de marketing și vânzari
Sales & Marketing din perspectivă internațională. Cum adaptăm strategia la specificul fiecărei piețe, păstrând consistența brand-ului?
Metrici și măsurători comune pentru o mai bună evaluare a performanței. Care sunt cei mai relevant KPI și cum pot fi aceștia raportați la nivel holistic organizațional
De la customer satisfaction la brand lovers. Cele mai noi instrumente pentru loializarea clienților, din perspectiva îmbinării forțelor de vânzări și marketing
Expunerea în Social Media, "Engage selling" și impactul asupra ratei de conversie: tendințe și bune practici. Interactive sales & marketing
Temele vor fi analizate de specialisti in domeniu, precum:
AUREL NEȚIN, Director & General Country Manager, Lenovo România
BOGDAN IFRIM, Country Head, ArcelorMittal FCE
JAVIER GARCIA DEL VALLE, CEO, Happy Tour Group (România, Bulgaria & Turcia)
FRÉDÉRIC LAMY, CEO, Leroy Merlin România
CORINA GAFTOI, Sales & Marketing Director, Adesgo
RĂZVAN NANULESCU, Marketing Lead Central Eastern Europe (CEE) & Romania, Sanofi
CEZAR GÂRBEA, Marketing Manager South Europe, Brown-Forman
CRISTINA AVRAM, Consumer Marketing Manager, Fabryo
RĂZVAN DIACONU, Customer Marketing Manager Central and Southern Europe, Michelin
Ediția din acest an va avea doi invitați speciali și anume: MATTHIAS WENK– Marketing Operations Director, Ryanair si PABLO FERREIROS BENNETT– PhD in Marketing, Sales & Marketing Expert, International Speaker & Advisor.
De asemenea, evenimentul va include seminarul interactiv: INCOME/OUTCOME ® SIMULATION, susținut de GIGI ANDRIEȘ, Senior Trainer, EVOLUTIV CONSULTANTS NETWORK și GHEORGHE ȘTEFĂNESCU, Senior Trainer, EVOLUTIV CONSULTANTS NETWORK. "Sales & Marketing Conference" va avea loc pe 9 martie 2017, la Hotel Radisson Blu din București.
Eveniment orgnizat cu sprijinul: British Romanian Chamber of Commerce și Bilateral Chamber of Commerce Bulgaria-Romania.
Partenerii evenimentului sunt: Evolutiv, Donut Studio și Biroul de traduceri Champollion. Evenimentul are drept parteneri media: Marketing Romania, IAA, Social media Romania, Jurnalul de afaceri, , Business editors, Global Manager, Femei in Afaceri, Business Woman, StartUps, PR BOX, RBE, Business24, Ziare.com, Calendar evenimente, Legal Marketing, Avocatura.com, Transilvania Business, Finzoom, Debizz, Administratie.ro, Roportal.ro, MLM