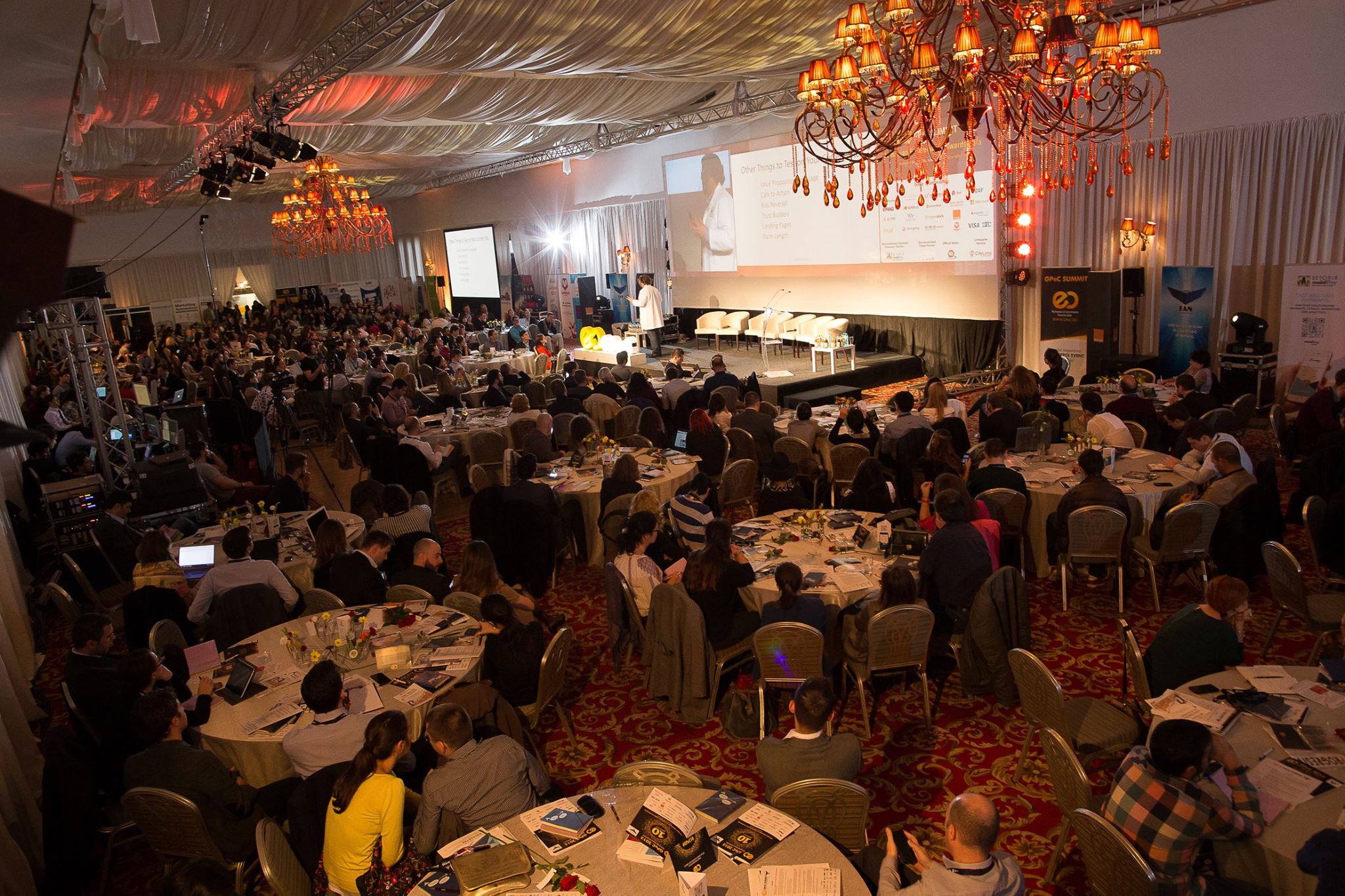 Pe 25-26-27 Mai se desfasoara, la Bucuresti, editia de 11 ani a GPeC Summit – cel mai important eveniment de e-commerce din Romania. Nu mai putin de 9 speakeri internationali, recunoscuti drept autoritati in domeniu la nivel global, precum si numele sonore ale pietei autohtone de e-commerce vor urca pe scena GPeC in cele 3 zile de eveniment.
David Darmanin (fondatorul Hotjar), Brian Dean (CEO Backlinko), Daniel Waisberg (Analytics Advocate la Google UK), Alex Langshur (co-fondatorul Cardinal Path si Director Emeritus al Digital Analytics Association), Karl Gilis (co-fondatorul AGConsult), Marie Polli (Senior Optimization Strategist la ConversionXL), Paul Rouke (CEO PRWD), Paul Krajewski (SALESmanago) si Chris Hague (ZoomSphere) – sunt expertii internationali in e-commerce si marketing digital care vor vorbi de pe scena GPeC Summit in zilele de 25-26-27 Mai.
Subiectele dezbatute in cadrul Summit-ului vizeaza problemele de maxim interes pentru oricine activeaza in e-commerce, de la magazine online pana la furnizorii de servicii, precum si antreprenorii care doresc sa porneasca o afacere online: optimizarea conversiilor & usability, marketing online, split testing, targetare comportamentala & retentia clientilor, SEO (optimizarea pentru motoarele de cautare), SEM, web analytics, e-commerce tools, social media, logistica & curierat, cifre si tendinte de piata.
Speech-uri savuroase, pline de exemple concrete
Considerat de PPC Hero numarul 3 la nivel global in optimizarea conversiilor, Karl Gilis este de parere ca prima interactiune a utilizatorului cu website-ul unui magazin online este ca o prima intalnire: "daca din minutul 1 vorbesti doar despre tine sau treci direct la sarut, s-ar putea sa te alegi cu o palma zdravana. Nu totul trebuie sa fie despre tine, din contra arata-i utilizatorului ca te intereseaza ce vrea el, pune-i intrebari, asculta-l, fii rabdator si fa-l sa se simta bine. Doar asa poti spera si la o a doua intalnire". Keynote-ul lui Karl de la GPeC Summit se intituleaza sugestiv: "Don't do anything on your website you wouldn't do on a first date".
Potrivit lui Brian Dean, fondatorul Backlinko, "Google se uita din ce in ce mai mult la relevanta unui brand in contextul cuvintelor cheie pentru care este indexat precum si la user experience, iar clasicele backlink-uri, keyword-uri sau title tags sunt in continuare foarte importante, dar insuficiente pe termen lung cand vine vorba de optimizarea website-ului pentru motorul de cautare Google". Brian Dean va sustine prezentarea "How E-Commerce Sites Can Tap Into Google's New Ranking Factors" pe 25 Mai in cadrul Conferintei GPeC.
David Darmanin, fondatorul Hotjar pune in centrul atentiei utilizatorul, considerand ca "prioritizarea atentiei magazinelor online catre client si nevoile acestuia reprezinta singurul mod in care iti poti asigura succesul pe termen lung". In prezentarea intitulata "The Rise of The User" pe care o va sustine la GPeC Summit, David va arata concret magazinelor online cum sa isi construiasca strategia de business avand in centrul atentiei utilizatorul.
Conferinta GPeC care va avea loc in ziua de 25 Mai este plina de astfel de topic-uri, precum si de panel-uri de dezbatere cu reprezentantii unora dintre cele mai importante companii de profil din Romania. In paralel cu Conferinta, se va desfasura GPeC E-Commerce Expo – locul in care magazinele online au ocazia sa se intalneasca si sa stabileasca colaborari cu principalele companii furnizoare de servicii si solutii e-commerce.
26 si 27 Mai 2016 sunt zilele in care au loc nu mai putin de 12 Workshopuri aplicate, adica 18 ore de continut e-commerce de la cei mai buni specialisti romani si internationali. Agenda pe zile a GPeC Summit poate fi consultata pe website-ul organizatorilor la http://www.gpec.ro/agenda-gpec-summit-mai/.
Ultimele zile de Oferta Early-Bird pentru inscrierile la GPeC Summit!
Pretul unui bilet de acces la GPeC Summit pentru toate cele 3 zile de eveniment este de doar 147 euro cu TVA inclus daca doritorii isi achizitioneaza biletele pana cel mai tarziu duminica, 15 Mai 2016, ora 23:59. Ulterior, pretul standard valabil in perioada 16-22 Mai devine 207 euro.
Inscrierile la GPeC Summit se fac completand formularul online de pe website-ul evenimentului: http://www.gpec.ro/inscriere-gpec-summit-mai/
2 Responses to "Ultimele zile de oferta early-bird la GPeC Summit – cel mai asteptat eveniment de e-commerce din Romania!"
Zelist Blog » Blog Archive » 05 – 11 mai 2016 – Saptamana in Social Media Says:
May 12th, 2016 at 4:49 pm

[…] zile de oferta early-bird la GPeC Summit, cel mai asteptat eveniment de e-commerce din […]

Tim Says:
May 17th, 2016 at 4:45 pm

suna foarte bine. dar mi se pare destul de scump totusi