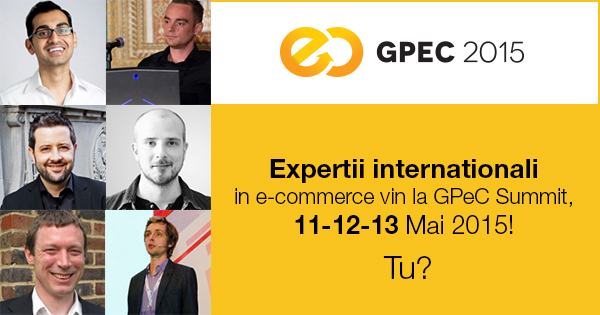 Pe 11-12-13 mai 2015 se desfasoara, la Bucuresti, GPeC Summit – cel mai important eveniment de e-commerce din Romania, avandu-l ca invitat special pe geniul in marketing online, Neil Patel. Pe langa Neil Patel, evenimentul are un line-up exceptional de speakeri internationali – experti cu o vasta experienta in e-commerce si invitati la cele mai importante conferinte de profil din lume: Chris Goward(CEO WiderFunnel), Craig Sullivan (Conversion Optimization Expert), Ivan Mazour (CEO Ometria),Matthew Woodward (SEO & Affiliate Marketing Expert), Simo Ahava (Senior Data Advocate Reaktor),Yauhen Khutarniuk (Head of SEO Link-Assistant), Matt Komorowski (Head of Sales PayPal CEE).
Pe 11-12-13 Mai, Bucurestiul devine capitala comertului electronic din Romania in cadrul GPeC Summit, eveniment care celebreaza 10 ani de existenta GPeC (Gala Premiilor eCommerce).
O zi de conferinta si 13 workshop-uri
Ziua de 11 Mai 2015 este dedicata Conferintei GPeC – "plina de keynote speeches si panel-uri de dezbatere, axate pe subiectele HOT pentru magazinele online si pentru toti cei care activeaza in piata de comert electronic sau isi doresc sa lanseze o afacere online", dupa cum spune Andrei Radu, CEO & Founder GPeC.
Potrivit agendei publicate pe website-ul evenimentului, vor fi prezentate ultimele cifre de piata si tendintelele de evolutie ale comertului online romanesc, iar keynote-urile speakerilor internationali vor viza exemple concrete despre cum sa iti cresti vanzarile si sa ai un magazin online de succes:
Ziua de Conferinta se va incheia cu o sesiune extraordinara de intrebari si raspunsuri, in premiera in Romania, numita de cei de la GPeC "Stage on Fire" – panel in care sunt invitati toti speakerii internationali, in frunte cu Neil Patel, sa raspunda intrebarilor celor din audienta.
"Este o sansa unica sa poti adresa intrebari unora dintre cei mai buni specialisti la nivel mondial, toti in acelasi loc, in acelasi timp. Momentul in care pe scena GPeC vor urca simultan Neil Patel, Chris Goward, Craig Sullivan, Simo Ahava si Ivan Mazour va fi epic si de neratat pentru orice magazin sau marketer online", spune Andrei Radu.
Tot in ziua de 11 Mai, in paralel cu Conferinta, se va desfasura GPeC E-Commerce Expo – cea mai importanta expozitie de e-commerce B2B din Romania, in cadrul careia principalele companii furnizoare de servicii si solutii de comert electronic se vor intalni cu reprezentantii magazinelor online, isi vor prezenta oferta si vor incepe parteneriate pe termen lung. Potrivit organizatorilor, toate spatiile de expunere sunt deja rezervate (inainte de termenul oficial de incheiere a inscrierilor). 22 de companii vor fi expozante la GPeC E-Commerce Expo.
Ziua de 11 Mai se va incheia cu GPeC E-Commerce Party – petrecere la care sunt invitati toti speakerii si toti participantii, fiind un excelent prilej de networking intr-un cadru informal.
GPeC Summit aduce in zilele de 12 si 13 Mai nu mai putin de 13 workshopuri tematice, pe subiecte de maxim interes pentru magazinele online si cu unii dintre cei mai buni traineri romani si internationali.
Agenda completa a evenimentului pe zile si pe ore poate fi accesata pe website-ul organizatorilor la http://www.gpec.ro/agenda-gpec-summit-mai-2015/, iar inscrierile se pot face aici.