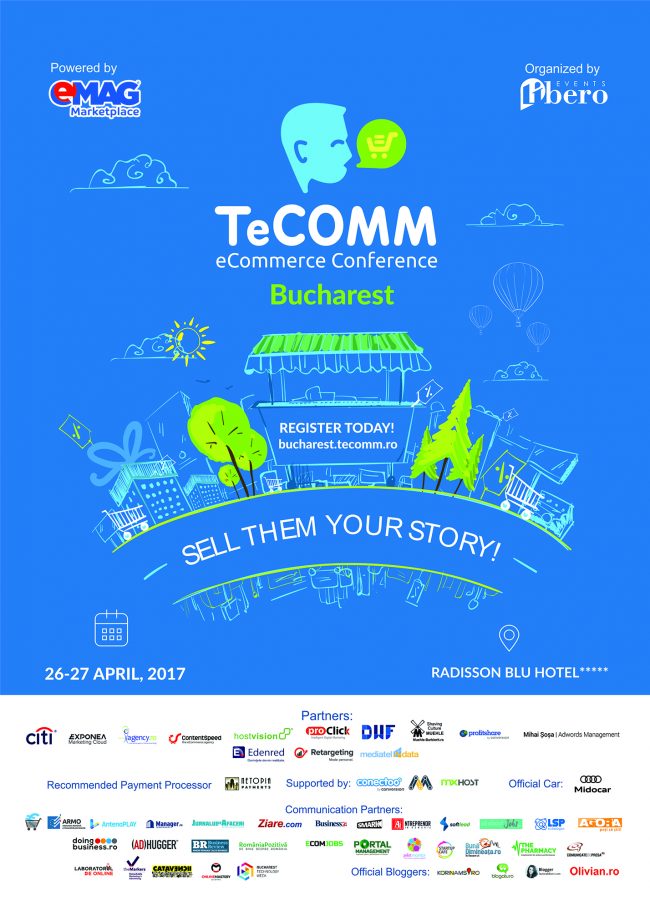 Peste 200 de experti in comertul electronic din Romania si strainatate isi dau intalnire intre 26-27 aprilie la Radisson Blu Hotel***** din Bucuresti pentru a discuta in cadrul evenimentului TeCOMM eCommerce Conference & Expo insighturi despre cum sa vinzi in online, care sunt tendintele la nivel international sau modalitatile de extindere a magazinelor online.
Cei peste 25 de speakeri care au confirmat prezenta la TeCOMM, lideri in industria de eCommerce, ofera informatii utile din propria experienta si modul in care au ajuns sa aiba succes in acest domeniu. Agenda evenimentului cuprinde, intre 26 si 27 aprilie, subiecte si teme precum eficientizarea afacerii, vanzarile online, intelegerea comportamentului clientilor, ultimele tendinte din SEO sau marketing in cadrul tematicii Sell them your story!.
De ce sa participi?
"Printrele avantajele participarii la conferinta se numara o mai buna intelegere a domeniului in care activeaza noile business-uri, solutii pentru problemele existente din industria comertului electronic sau networking-ul cu profesionistii din domeniu. Cei prezenti vor afla in acest fel idei noi, dezbate trenduri si realiza noi contacte", a declarat Bogdan Ciocian, Managing Partner Libero Events, agentia care organizeaza cea de-a 10-a editie la nivel national al evenimentului premium de eCommerce, TeCOMM.
Comertul electronic, incurajat la TeCOMM
TeCOMM sustine potentialul de crestere al industriei comertului electronic. Evenimentul ofera proprietarilor de magazine online posibilitatea de a se integra intr-un mediu de afaceri aflat in plina dezvoltare. Cei care detin un start-up in eCommerce au parte de o oferta speciala, disponibila pe site-ul oficial al evenimentului.
Sectiunea speciala dedicata exclusiv managerilor de magazine online cu potential de extindere la nivel international sau care cauta sa se extinda pe piete noi este Cross-Border Forum din 26 aprilie. In cadrul forumului vor fi analizate mecanismele pietei la nivel global impreuna cu lideri recunoscuti la nivel international. Jesse Weltevreden (Research Director Ecommerce Foundation), Dan Mazilu (CEO, Mediatel Group), Mugur Cosmin Frunzetti (Founder and CMO, Retargeting.Biz), Daphale Dinesh (Head of Cash Mgmt. Product and Sales Citi Commercial Bank) sau Florin Filote (Marketplace Director, Emag) vor aborda teme precum: tendintele in eCommerce, legislatie, logistica sau comunicarea catre pietele externe.
Subiecte de interes pentru industria de eCommerce, in 26-27 aprilie
In prima zi a evenimentului, vor avea loc in sali paralele workshopuri sustinute de liderii Ovidiu Joita (CEO, iAgency.ro), Sebastian Kucharek (Head of Treasury and Trade Solutions Central and Eastern Europe, Citi), Eugen Potlog (UX Lead & Product Manager, Conversion Marketing), Attila Birtha (Founder, Proclick) sau Sergiu Negut (Associate Dean, Maastricht School of Management).
Lor li se alatura, in cea de-a doua zi a evenimentului, in sectiunea de dezbateri: Doina Vilceanu (Chief Marketing Officer, Business Development Manager, ContentSpeed), Mihai Patrascu (Founder & CEO, evoMAG), Antonio Eram (CEO & Founder, NETOPIA), Florinel Chis (Executive Director, ARMO), Ivan Vrhel (Head of Commercial Bank Citi Romania), Claudiu Farcas (Profitshare Affiliate Platform Manager, Conversion), Victor Tighinean (General Manager for Romania, Hungary, Slovenia, Croatia, Serbia, ECCO Shoes) sau Jakub Minks (Regional Director Central & Eastern Europe, Exponea).
Doina Vilceanu are o experienta de peste un deceniu in mediul online international. Ea coordoneaza departamentul de marketing si vanzari al companiei ContentSpeed, lider de piata in implementarea solutiilor software pentru eCommerce customizate. Platforma de comert electronic ContentSpeed este implementata de peste 600 de magazine online si 35 de portaluri B2B. Printre brandurile din portofoliul companiei se numara: SEPHORA, Diverta, Chicco, Flormar, ProfiHair Shop, Betty Ice, Remedium Farm, Producton Group, QuickMobile sau Vitacom Electronics.
Ultima saptamana de inscrieri la TeCOMM
Speakeri internationali din tari precum Statele Unite, Marea Britanie, Olanda, Suedia, Cehia sau Belgia vor sustine prezentari in 27 aprilie. Richard Prenderville (CMO & Founder, Peloton Digital Marketing Group), Mike Bainbridge (Chief Digital Technologist, Rackspace), Nick Lansley (Innovation Insider, Nick Lansley & Innovation Lab), Carlo Terreni (Netcomm Suisse, General Director), Sven Bally (Founder & Senior Consultant, XETA) sau Kunle Campbell (Advisor & Ecommerce Growth Consultant, 2X eCommerce) sunt liderii din online care au confirmat prezenta la eveniment. Inscrierile continua pana in 23 aprilie pe www.bucharest.tecomm.ro/register.
Companiile care inteleg aportul pe care conferinta de eCommerce il are in dezvoltarea mediului de business online si care sustin evenimentul sunt:
Powered by: Emag Marketplace
Parteneri: Citi, Exponea, ASUS, Iagency, Mediatel Group, Retargeting.biz, Hostvision, Proclick, ContentSpeed, DWF, Profitshare, Muehle, Mihai Sosa, Edenred
Recommended Payment Processor: Netopia mobilPay
Sustinut de: Mready, MxHost, Conectoo, Mobila Dalin
Official Car: Midocar