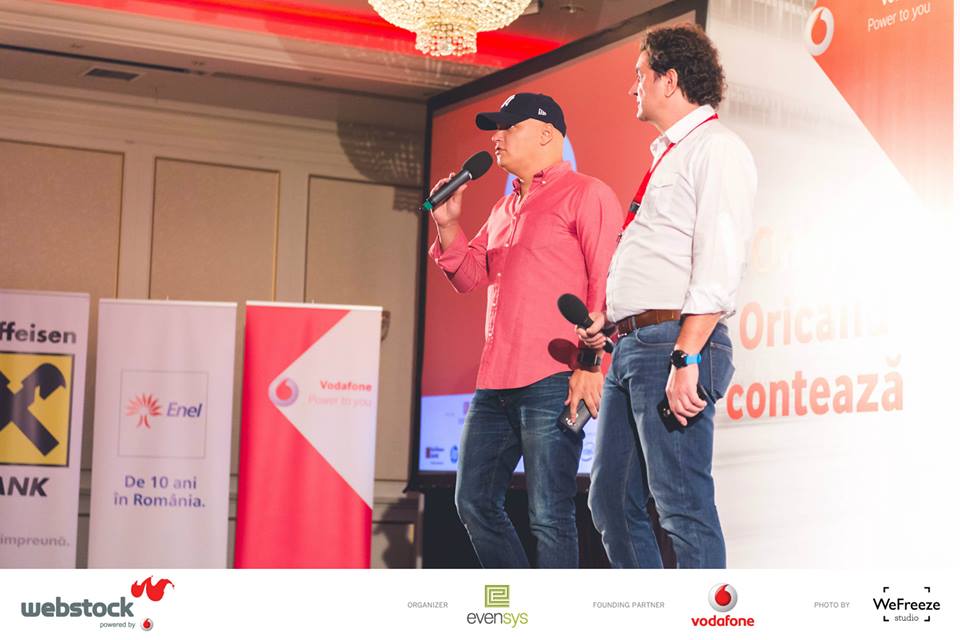 Vineri, 2 octombrie, a avut loc unul dintre cele mai importante evenimente de social media din Romania, Webstock 2015. Acesta a avut loc in Bucuresti, la JW Marriott Hotel.
Evenimentul se afla deja la a opta editie, fiind organizat de Evensys in parteneriat cu Vodafone Romania si a cuprins Conferintele Webstock si Premiile Webstock.
In prima parte a zilei au avut loc doua conferinte (The Game Changers 1 si The Game Changers 2 ), ce au oferit participantilor o reala sursa de inspiratie si motivatie, sfaturi pentru succesul in social media si oportunitatile actuale in industrie, iar dupa amiaza participantii au avut ocazia de a alege una dintre cele trei trei sesiuni, desfasurate in paralel (The Debate Section, The How-to Section sau The Know-How Section).
Dupa conferinte, a avut loc Gala Premiilor Webstock, unde au fost premiate mai creative si inedite campanii in social media din Romania, lansate in ultimul an.
Castigatorii din acest an ai Premiilor Webstock sunt:
1. PUBLISHING
Locul 1 : Grolsch Sound Experiment (Ursus Breweries & Kubis Interactive)
Locul 2 : Totuldespremame.ro (Multi Media Est)
Locul 3 : Tedoo.ro
2. UTILITY
Locul 1 : eSKY.ro mobile application
Locul 2 : Ora de creativitate (Samsung Electronics Romania & Starcom & Digital Star)
Locul 3 : ‪#‎casastiti‬ (Cristian Florea)
3. BEST USE OF PHOTOGRAPHY
Locul 1 : Fotografii de citit (Andrei Purcarea & Andreea Mitran)
Locul 2 : What Liberty Ate (Gabriela Iancu) {Fotografie culinara creativa}
Biciclescu.ro (Ariel Constantinof & Radu Badoiu)
Locul 3 : Stiu o poveste ( Canon Romania & The Good Company)
4. BEST USE OF VIDEO
Locul 1 : Vocea Porcului Antrefrig (Hamé Romania & Graffiti BBDO & GMP PR)
Locul 2 : Mirodenia – Opreste-o pe Miruna (Fuchs Condimente & Tribal Worldwide)
Locul 3 : Salveaza Ciocarlia (SOR – Societatea Ornitologica din Romania; ONG Natura 2000; Jazz Communication; Rogalski Damaschin)
Adopta un Ş (Kinecto)
5. CORPORATE BLOGS
Locul 1 : Blog Eurolines (Eurolines & Travel Communication)
Locul 2 : Sam's Blog (Starcom & Leo Burnett & Samsung Electronics Romania)
Locul 3 : Blog Hotel Guru (Hotel Guru & Travel Communication)
6. BLOGGING CAMPAIGNS
Locul 1 : Heineken Open Your City (Heineken & Oxygen)
Locul 2 : MasterCard o luna ‪#‎doarcucardul‬ (MasterCard & Golin)
Prima Galerie de Arta Digitala din Romania, pe SUHD TV (Samsung &MSLGROUP The Practice)
Locul 3 : ‪#‎pepsichallenge‬ (Pepsi Romania & Golin)
Europe Exotica (Air France Romania & Banca Transilvania & Tedoo.ro)
7. FACEBOOK APPLICATIONS
Locul 1: 3 2 1 Tu esti Ambasadorul Aperol Spritz (Aperol Spritz & Frank Group)
Locul 2 : Durex Tune In (Durex & Frank Group)
Locul 3 : Vegeta – Tu stii care este reteta relatiei tale? (Pastel & Vegeta)
8. BEST BRAND ON INSTAGRAM
Locul 1 : @brutariilepaul (Paul Romania & Golin)
Locul 2 : @nestlefitnessro (Nestle & Zenith Media)
Locul 3 : @cocacolaromania (Coca-Cola Romania)
@SamsungRomania (Samsung Electronics Romania & Starcom)
9. MOBILE APPLICATIONS
Locul 1 : MakeUp Genius App – Aplicatie mobila – Machiaj virtual cu modul de Buy now (L'Oreal Romania & Syscom Digital)
Locul 2 : Read a tree. Save a book. (Elefant & Geometry Global Bucharest)
Let's Do It, Romania (Qualitance & Let's Do It Romania)
Locul 3 : Watercolors (Adonis Games)
10. INNOVATION
Locul 1 : Grolsch Synthesizer (Ursus Breweries & Kubis Interactive)
Locul 2 : Dew the grind (Mountain Dew, PepsiCo & Kaleidoscope Proximity)
McDonald's: Valentine's Day on Tinder (Tribal Worldwide Romania & McDonald's Romania)
Locul 3 : Muzeu VR "110 ani Siemens in Romania"(Siemens & Republika)
LYTMSS (Silent Strike & Three / Mind Treat Studios)
11. SPECIAL PROJECTS
Locul 1 : Frumusete inseamna tot ceea ce esti tu! (Dove & Kubis Interactive)
Locul 2 : Orange ‪#‎parintilascoala‬ (Orange Romana & Golin)
Ciuc Radler – Romania Activa (Heineken & Oxygen)
Locul 3 : Bitdefender Antivirus for Mac – How safe is your Mac? (Bitdefender & Digital Star)
The Absolut secret is…UNTOLD (Absolut & Leo Burnett Group)
12. INTEL ONLINE PERSONALITY OF THE YEAR
MIHAI TARANU – ZMENTA.RO
One Response to "Totul despre Webstock 2015"
Zelist Blog » Blog Archive » 01 – 07 octombrie 2015 – Saptamana in Social Media Says:
October 12th, 2015 at 3:41 pm

[…] Totul despre Webstock 2015 […]