In saptamana 02 – 08 noiembrie 2020, nivelul de interactiune in domeniul farma din Facebook, totalizand 6.857 interactiuni, s-a dublat fata de saptamana trecuta, cand s-au inregistrat 3.281 interactiuni.
Pe fondul acestei cresteri, lantul de farmacii Catena a inregistrat 4.876 de interactiuni si se situeaza in fruntea topului vizibilitatii sectorului farma pe Facebook. Share of voice al Catenei este de 71%, ocupand o foarte mare parte din conversatiile / interactiunile din domneniu.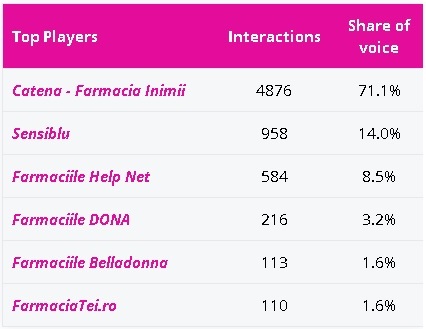 Pe locul al doilea s-a clasat Sensiblu, cu 958 de interactiuni, iar pe locul al treilea se afla lantul de farmacii Help Net, care a acumulat 584 de interactiuni, reprezentand 8,5% share of voice.
Cele mai importante postari din aceasta perioada au fost:
Sursa FB Monitor / Domanins Overview
One Response to "Top Vizibilitate Farmacii pe Facebook in saptamana 02 -08 noiembrie 2020"
Zelist Blog » Blog Archive » Top Farmacii pe Facebook in saptamana 16 – 22 noiembrie 2020 Says:
November 25th, 2020 at 12:26 pm

[…] farma (pe Facebook) a fost de 35.774 interactiuni, adica de 5 ori mai mare decat era in urma cu 2 saptamani. In perioada curenta s-au inregistrat in medie cate 6 posturi pe zi, iar fiecare post publicat a […]