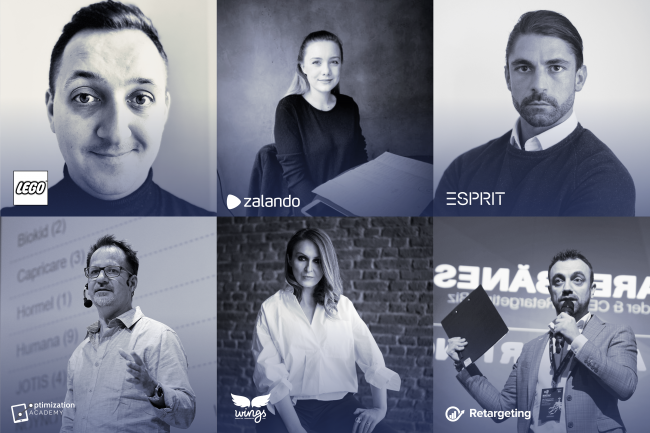 Cluj-Napoca gazduieste in perioada 9-10 noiembrie doua evenimente dedicate industriei de eCommerce si IT: TeCOMM eCommerce Conference&Expo si Targul de Cariere in IT.
Companii din domeniul tehnologiei, eCommerce-ului si al marketingului, impreuna cu angajatori de top din zona de IT, sunt prezente la Cluj-Napoca pentru a lua pulsul industriei si pentru a interactiona B2B si B2C. Evenimente ofera profesionistilor oportunitatea de a invata din strategiile care au condus la succes, de a cunoaste angajatori de top si de a-si dezvolta reteaua profesionala.
Content international si headlineri din eCommerce: Lego, Zalando, ESPRIT
Noua editie TeCOMM eCommerce&Expo este structurata din: conferinta cu speakeri si know-how international, workshop-uri practice, masterclass-uri hands-on, dar gazduieste si o zona expozitionala extinsa, formata din profesionisti si furnizori din domeniu.
James Poulter este Global Head of Emerging Platforms and Partnerships, parte integranta din divizia Digital Consumer Engagement a LEGO Group. Pe langa proiectarea si dezvoltarea unor caracteristici sociale cum ar fi tastatura emoji LEGO Life, personaje personalizate si sisteme de moderare, James a supravegheat lansarea parteneriatului global al LEGO cu GIPHY, care a condus canalul LEGO sa acumuleze peste 1 miliard de vizualizari GIF in primul sau an.
In afara job-ului, James este consultant pe partea de initiative tehnologice pentru start-up-uri, companii si comunitati emergente – le ajuta pe acestea sa dezvolte inovatii strategice si modele de afaceri de succes.
Melissa Weston ocupa pozitia de Marketing Lead for UK and Ireland la Zalando, gigantul de comert electronic cu peste 14.000 de angajati. Nominalizata printre cei 35 sub 30 de ani la Festivalul Creativ Cannes pentru performatele sale in eCommerce si Marketing, Melissa este responsabila de intregul buget de marketing Zalando UK&Irlanda.
Juan Carlos Duenas Milian este Senior Manager Ecommerce la ESPRIT. Il recomanda peste 6 ani de experienta pe partea de product management si e-commerce la companii internationale cu nume sonore: Inditex, Mango, Puig, ESPRIT si in prezent se ocupa de campaniile comerciale ale ESPRIT, cu focus pe imbunatatirea strategiilor de crestere a vanzarilor si optimizarea experientei de cumparare.
Experiente de invatare, networking si oportunitati de business
In paralel cu TeCOMM eCommerce Conference&Expo, in incinta Salii Polivalente se desfasoara Targul de Cariere IT, eveniment care se adreseaza aceluiasi tip de public. Asadar, intreg spatiul va fi transformat intr-un hub tehnologic, in care fluxul de informatii din domeniul IT va fi constant – Sala Polivalenta va deveni astfel, timp de doua zile, un pol al tehnologiei, fiind favorizate schimburile de idei si stimularea creativitatii.
Participantii la Targul de Cariere IT vor interactiona cu cele mai importante companii din domeniul online si vor avea ocazia sa isi testeze si imbogateasca cunostintele. Organizatorii au pregatit pentru cei interesati si pasionati de tehnologie workshop-uri si speed challenge-uri menite sa stimuleze interactiunea dintre angajatori si candidati.
Evenimentele creeaza noi punti intre specialisti, astfel incat oportunitatile intalnite in cadrul celor doua evenimente sa fie cat mai avantajoase pentru cei care vor sa aprofundeze anumite teme relevante pentru viitorul lor professional sau isi doresc o cariera in domeniul IT.