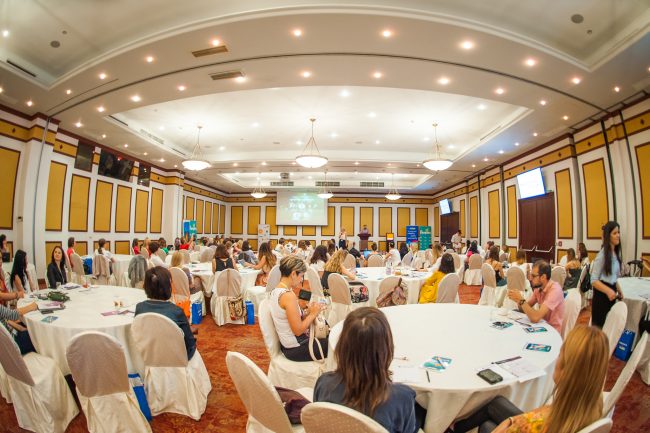 Social Media for Parents revine cu o noua editie pe 19 iulie, la Hotel Caro Parc! Ajunsa la cea de-a sasea editie, conferinta organizata de Evensys reuneste parintii activi in mediul online si specialisti in comunicare si digital, pentru a dezbate tendinte in parenting, idei de promovare si noutati din social media.
In fiecare an, conferinta le ofera participantilor ocazia sa afle de la specialisti care sunt cele mai bune practici si modalitati in care pot fi obtinute colaborari de durata, oferind in acelasi timp oportunitatea de networking cu persoane care impartasesc aceeasi pasiune.
Subiecte de actualitate
Conferinta este structurata pe 3 sesiuni care aduc in fata participantilor informatii si studii de caz relevante: Parenting Trends, The Challenges of the Modern Parent si Blog Talk.
Speakeri renumiti
Speakerii #smforparents18: Otilia Mantelers – Parenting, Connection Instructor, Mihaela Bilic – Medic Nutritionist, Autor, ABC de Nutritie, Mirela Horumba – Psihologul Parintilor, Sorin Cadar – Medic Primar ORL, Asociatia Romana de Homeopatie Clinica, Ioana Macoveiciuc – Blogger, Printesa Urbana, Amalia Fodor – Director Fundatia Orange, Georgiana Rosculet – Coordonator Programe Educationale, Salvati Copiii, Ana Nicolescu – Owner, Mamica Urbana, Alex Zamfir – Blogger, celmaibuntata.ro, Ana Maria Mitrus – Blogger, Meseria de Parinte, Ruxandra Luca – Prezentator Tv / Blogger, Cristina Otel – Trainer, Coach, Blogger, Cristinaotel.ro, Florina Badea – Health Coach, Health and Parenting Blogger, Gabriela Maalouf – Psihoterapeut & Trainer pentru copii si parinti, Miruna Ioani – Blogger, siblondelegandesc.ro, Valeria Herdea – Medic de Familie, Presedinte AREPMF, Mihaela Feodorf – Owner & Career Architect, Yourway.
Solicita o invitatie gratuita sau urmareste conferinta live
Participarea se face pe baza unei invitatii gratuite solicitate pe site-ul evenimentului. Cei care nu pot lua parte la aceasta editie a Social Media for Parents, pot urmari transmisiunea live pe site, pe 19 iulie. Detalii despre eveniment sunt disponibile pe www.socialmediaforparents.ro.