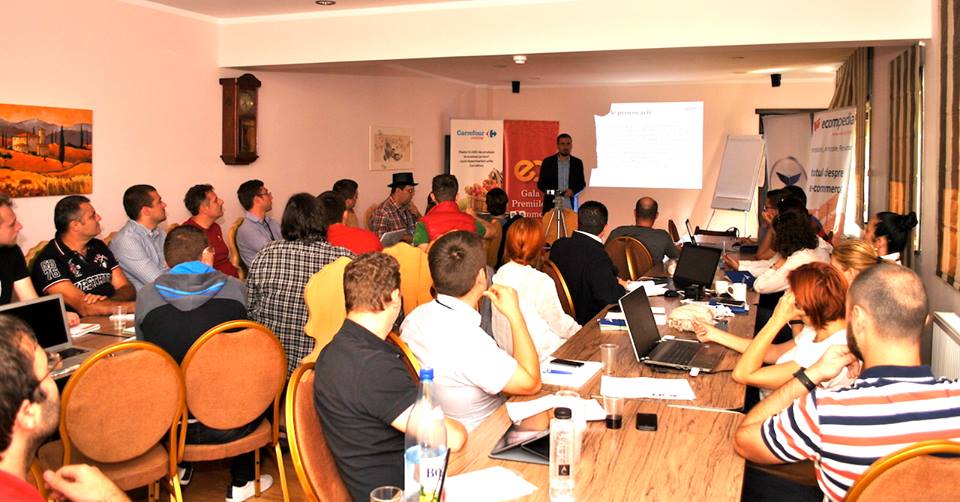 GPeC (Gala Premiilor eCommerce) – cel mai Important Eveniment de Comert Electronic din Romania, ajuns la a 10-a editie anuala – anunta inceperea inscrierilor la Scoala de Vara de E-Commerce GPeC care se va desfasura in perioada 26-31 august 2015, la Family Hotel Arnica*** din Moeciu de Sus, jud. Brasov. Scoala de Vara GPeC este singura serie de cursuri intensive de e-commerce din Romania dedicata celor care activeaza in comertul electronic si vor sa isi dezvolte afacerea sau care isi doresc sa deschida un magazin online si vor sa afle cum sa il faca profitabil.
In cadrul Scolii de Vara GPeC au loc 12 cursuri de 90 de minute fiecare, adica nu mai putin de 18 ore de informatie premium de la unii dintre cei mai buni specialisti in e-commerce, continutul transmis participantilor fiind personalizat si continand exemple concrete din site-urile lor pentru a-i ajuta sa isi optimizeze conversiile si sa vanda mai mult.
Cine sunt trainerii Scolii de Vara de E-Commerce GPeC?
Trainerii Scolii de Vara GPeC 2015 au o vasta experienta in e-commerce si in marketing online, oferindu-le participantilor tips & tricks despre cum isi pot imbunatati afacerea: Alin Vlad (Director of Online Sales & Marketing Heimdal Security); Andrei Radu (CEO & Founder GPeC); Bianca Dancila (Founder & Managing Director GripAds); Costin Radu (Managing Partner The Geeks); Cristian Ignat (PPC Marketing Manager 2Parale); Dan Virtopeanu (Managing Partner BreezeMobile); Eugen Potlog (Manager Conectoo); Horia Neagu (Digital Marketing Consultant); Iulian Padurariu (Consultant Marketing The Marks); Liviu Taloi (Co-Founder ECOMpedia & Community Manager GPeC); Raluca Radu (Senior Digital Marketing Consultant) si Silviu Toma (Associate Partner MicroAnalytics).
Mai multe detalii, pe www.gpec.ro/scoala-de-vara-de-e-commerce-gpec-2015.