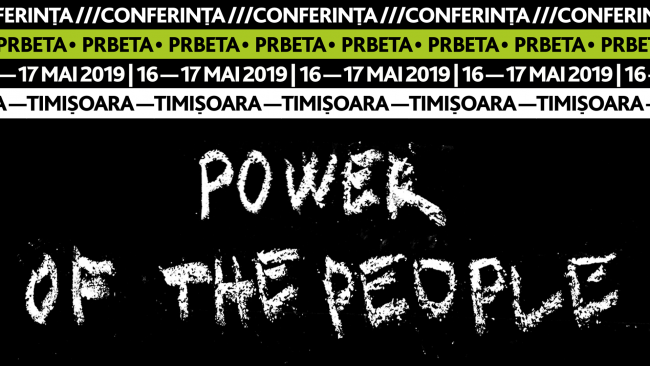 Cea de-a noua ediție a Conferinței PRbeta are loc în 16-17 mai, la clădirea Incuboxx din Timișoara. Evenimentul aduce la un loc, și de această dată, pentru două zile, comunitatea specialiștilor de marketing, PR, publicitate și domenii conexe din zona de vest a țării. Discuțiile și prezentările vor urmări un subiect central de discuție, care anul acesta este Power of the People.
În 2019, cea mai importantă componentă a comunicării o reprezintă oamenii. Dacă în trecut accentul se punea uneori pe produs și calitățile sale, pe importanța brand-ului, pe schimbările pe care la aduce un eveniment, în ultimii ani, atât companiile, cât și organizatorii de evenimente și-au axat strategile de comunicare pe nevoile comunităților către care se adresează. Cu ajutorul temei Power of the People, vorbitorii își propun să exploreze importanța acestor comunițăți în comunicare, modalitățile în care brand-urile comunică de la oameni pentru oameni, importanța comunicării pentru Start-up-uri și companii aflate la început de drum, dar și discuțiile și exemplele despre "România care ar putea fi" – o țară în care lucrurile ar putea funcționa mai bine, și dacă am comunica mai eficient cu instituțiile publice.
Toate aceste subiecte de discuție vor fi abordate în cadrul primei zile a evenimentului. Astfel, tema "Power of the People" va fi dezbătută de profesioniști în comunicare și domenii conexe, dintre care îi amintim pe Florina Iordache (MagiCAMP), Mihai Zânt (RO-WIN.ro), Oana Coșman (Start-up.ro), Alex Ciucă (Superior Media), Alexandru Negrea (Social Smarts) și pe Mircea Căpățînă (Smart Bill). Periodic, organizatorii vor anunța noi oameni care vor vorbi în cadrul Conferinței PRbeta.
Organizatorii pun la dispoziție bilete Eary Bird, la prețul de 99 lei (în loc de 149 lei – prețul final). Studenții beneficiază pe toată perioada de o reducere de 50% din valoarea finală a biletului pentru prima zi a evenimentului. Înscrierile se fac online la http://prbeta.ro/comunicare.
One Response to "Power of the People la cea de-a noua ediție a Conferinței PRbeta"
Zelist Blog » Blog Archive » 28 martie – 03 aprilie 2019 – Saptamana in Social Media Says:
April 8th, 2019 at 8:38 am

[…] PR Beta: Power of the People la cea de-a noua editie a Conferintei PRbeta […]