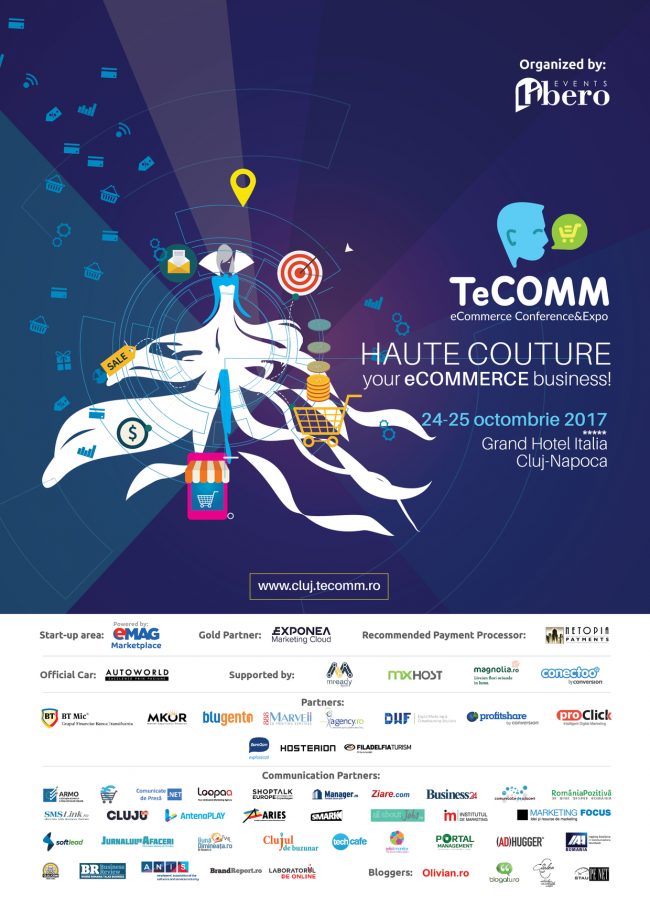 Adam Palczewski, Global Sr. Manager, Ecommerce&Digital Media in cadrul Philips, compania recunoscuta la nivel international pentru inovatiile in tehnologie, participa intre 24-25 octombrie la noua editie a evenimentului premium de comert electronic TeCOMM eCommerce Conference&Expo ce reuneste peste 350 proprietari ai magazinelor online si profesionisti in eCommerce la Cluj-Napoca.
Adam a petrecut mai mult de 15 ani in functii de conducere in comertul electronic, marketing digital si mass-media internationala. In cadrul Philips conduce departamentul de eCommerce, avand clienti precum Amazon, Facebook, Google, Linkedin carora le coordoneaza strategiile si parteneriatele la nivel global.
Discutii punctuale oferite direct de reprezentantii eMag, Fashion Days, Elefant, Altex, Zoot, Vector Watch si multi altii
Evenimentul TeCOMM reuneste in cele 2 zile peste 350 de profesionisti si proprietari de magazine online recunoscute la nivel national si international. Sub tematica generala Haute Couture your eCommerce business marii jucatori internationali precum Gfk (Marco Wolters – Global Industry Lead Fashion, Home and Lifestyle), eBay (Samuel Laurinkari – Head of EU Affairs), Littledata (Edward Upton – Fondator), The Myndset Company (President – Minter Dial), Exponea (Jakub Minks – Regional Director Central & Eastern Europe) sau General Netcomm Suisse (Carlo Terreni – Director) vor puncta solutiile necesare dezvoltarii industriei eCommerce.
Reprezentanti ai marilor retaileri online din Romania precum eBay, eMag, Elefant.ro, Altex, Fashion Days sau Zoot.ro vin sa dezbata subiecte precum transformarile digitale ce au loc in industria de fashion sau entuziasmul dezvoltarii industriale pe diferite canale, adaptate la piata nationala.
eMAG Marketplace, unul dintre cei mai puternici jucatori pe piata comertului online din Romania sustine proprietarii magazinelor online aflati la inceput de drum in cadrul sectiunii Start-up Area. Platforma a inregistrat o crestere spectaculoasa a numarului de magazine partenere, anul acesta eMag Marketplace fiind estimat sa depaseasca 10.000 de selleri in intreaga regiune. In cadrul TeCOMM, Florin Filote (Director, eMag Marketplace) si George Iordache (Sales Team Leader, eMag Marketplace) sustin prezentari in cadrul evenimentului.
George Iordache are experienta de peste 10 ani in domeniul antreprenoriatului si al vanzarilor, iar Florin vine cu o experienta acumulata in cele mai mari companii de pe piata nationala. Alaturi de reprezentatii eMag Marketplace, Oana Marin (Sales Manager, Conversion Marketing), Antonio Eram (CEO&Fondator, NETOPIA mobilPay) sau Ovidiu Ababei (Director eCommerce, Altex & Media Galaxy) vor raspunde la intrebarile puse de participantii TeCOMM in cadrul panelului de debate din ziua conferintei, 25 octombrie.
TeCOMM eCommerce Conference&Expo, organizat de agentia Libero Events, are loc intre 24-25 octombrie la Grand Hotel Italia***** din Cluj-Napoca. Prima zi a evenimentului include workshopurile Markday dedicate marketerilor, sectiunea Start-up Area, Catwalk Stage pentru proprietarii magazinelor online de fashion, Masterclass-ul SEO si sala Antreprenor pe www dedicata managerilor. Cea de-a doua zi a evenimentului include prezentarile oferite de invitatii internationali si nationali cu o perspectiva internationala. Inscrierile continua pe site-ul oficial: www.cluj.tecomm.ro.