Peste 60 de specialiști în marketing digital locali și internaționali vor urca pe scena celui mai mare eveniment de promovare online din Romania, în 2023. Digital Marketing Forum strânge elita marketingului din Romania pe 11 și 12 mai la Hotel JW Marriott din București pentru 2 zile pline de informații utile, prezentate în 2 conferințe și 2 cursuri intensive, în fata a 600 de participanți.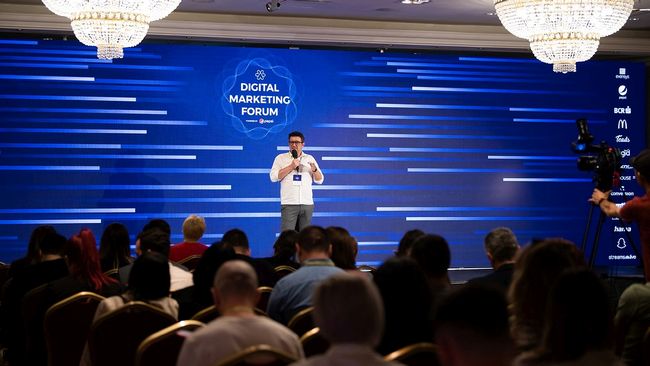 Joi, 11 mai 2023 // Digital Marketing Conference Day 1
Mastering the Digital Arena: Innovative Strategies and Tactics for Marketing Success
Află noile tendințe în marketingul digital și intră în culisele unor campanii eficiente. Alege noi modalități de a ajunge țintit la publicul tău, cu costuri reduse.
Vineri, 12 mai 2023 // Digital Marketing Conference Day 2
Future-Forward Marketing: Embracing Trends and Unleashing Creativity
Învață cum să creezi și să îmbunătățești strategii de marketing digital adaptate la așteptările consumatorilor, folosind cele mai noi tactici.
Vineri, 12 mai 2023 // Digital Marketing Masterclass 1
Integrated Digital Marketing Strategy
Aprofundează tehnicile de promovare care dau rezultate, dezvoltă competențe noi și completează-ți strategia cu platforme noi și utile.
Vineri, 12 mai 2023 // Digital Marketing Masterclass 2
Advanced Social Media Marketing Strategy
Descoperă metode pentru campaniile în social media de la experți de top și actualizează-ți planurile de promovare pentru restul anului.
La microfonul forumului vor vorbi profesioniști cu experiență dovedită în marketing, publicitate, brand management, digital marketing și social media, printre care: Dr. Annie Hou (MRM London), Katarzyna Kabiesz (Teads), Rafal Tromczynski (Digital First AI), Paulina Tsathiri (Project Agora), Vytautas Paukstys (Eskimi), Nurya Doorenbos (Ogilvy Social.Lab Belgium), Cătălin Stroe (Google Romania), Alex Victoriu (TikTok Central Europe), Simona Panait (Samsung Electronics Romania), Silviu Buidan (Kaufland Romania & Moldova), Diana Stan (Engie Romania), Nicoleta Baicu (Carrefour Romania), Alina Neagu (Medlife Group), Adrian Păsărică (Orkla Foods), Laura Mihăilă Andrei (Raiffeisen Bank), Sînziana Stoicescu (BAT Romania), Laurențiu Ion (PepsiCo), Ioana Zamfir (MRM Romania), Orlando Nicoară (eAd), Dragoș Stanca (Thinkdigital), Alexandru Negrea (Social Smarts), Olimpia Norsesovici (MGID), Adrian Biciu (Adform), Sabin Belușică (Httpool) precum și mulți alții.
Mai multe informații despre eveniment, agendă și vorbitori sunt disponibile pe www.digitalforum.ro. Evenimentul este organizat exclusiv offline. Consultă pagina de Participare și alege pachetul potrivit nevoilor tale de învățare.
Digital Marketing Forum 2023 este un eveniment organizat de Evensys, realizat cu sprijinul Mastercard, Google, McDonald's Romania, glo, MRM Romania, Teads – The Global Media Platform, Eskimi, MGID, Publicis Groupe Romania, Httpool, Conversion, Adform, Project Agora Romania.
DESPRE EVENSYS
EVENSYS este o companie de planificare de evenimente, cu peste 16 ani de experiență în organizarea de evenimente business. Evensys este specializată exclusiv pe dezvoltarea de conferințe și de seminare proprii, ce acoperă șapte domenii de activitate: Marketing & Comunicare, Internet & New Media, Financiar & Investiții, HR, Real Estate, Production și Retail. Evenimentele organizate tratează tematici actuale, care privesc atât industria de business locală, cât și cea din Europa Centrală și de Sud-Est.