De peste 15 ani, social media au deschis noi cai si au dat noi forme de expresie utilizatorilor de Internet din Romania. Astazi, prezenta pe platformele sociale este una fireasca si necesara atat la nivel personal, cat si profesional. Insa in fiecare an apar noutati si noi tendinte, iar creatorii de continut si companiile trebuie sa fie la curent cu ele.
Pe 7 octombrie, cel mai longeviv eveniment de social media si comunicare online din Romania umple din nou salile de la Hotel JW Marriott din Bucuresti. Webstock este cel mai asteptat moment din an, unde creatorii de continut, specialistii in comunicare digitala si managerii de branduri ofera prin prezentari, discutii si momente de socializare perspective noi si tendinte din social media.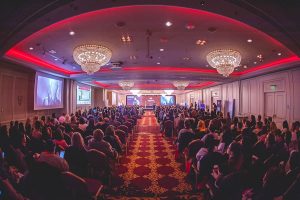 Webstock revine anul acesta la formatul care l-a consacrat, fiind eveniment modular, ce include 4 scene si o gala de premiere a celor mai bune proiecte si campanii social media. Ca de obicei, conferinta pune mare accent pe creativitate, pe evolutia continutului alaturi de platformele sociale si strategii de promovare eficiente.
Evenimentul va fi deschis de doua sesiuni care vor aduce in prim-plan studii de caz in exclusivitate si personalitati care au o voce relevanta atat in social media, cat si in mediul offline si care vor transmite emotie prin povestiri speciale. Webstock continua cu noi sesiuni de conferinta, ce se vor desfasura in paralel pe 3 scene: New Trends Stage, Creators Stage si Strategy Stage, punand accent pe noutate si inovatie.
Printre vorbitorii acestei editii se numara: Cuzin Toma (Actor), Patricia Cincora (Content Creator), Dan Badea (Actor & Comedian), Radu Umbres (Author & Anthropologist), Ciprian Zamfirescu (Digital Transformation & Innovation Manager, Vodafone Romania), Andreea Blejan (Head of Social Media HUB, BCR), Laurentiu Ion (Head of Digital & Media, Pepsico Romania), Alex Trif (Content Creator), Dan Oros (Head of Marketing, Google), Sinziana Stoicescu (Digital Channels Senior Manager, BAT Romania), Alex Cotet (Writer & Director), Irina Manuela Butnaru (Corporate Communications Manager, PENNY), Raul Gheba (Copywriter & Comedian), Lorena Visan (Content Creator), Louis Florea (Content Creator), Ana Maria Bajan (Marketing, Business Development & PR Executive Director, Caroli Foods Group), Bogdan Epure (Head of Social Media, Oxygen), Raluca Radu (Managing Partner, MTH Digital), Adina Jipa (Founder & CMO, Socialinsider), Alexandra Mircea (Entrepreneur & Content Creator) si multi altii.
Webstock Awards 2022
Incepand cu ora 19:00, comunitatea digitala locala isi da intalnire la Webstock Awards 2022, cea mai importanta gala dedicata proiectelor si campaniilor social media din tara. An de an, cele mai creative proiecte din mediul digital, campanii online realizate in Romania si personalitati care s-au implicat activ atat in online, cat si in offline, sunt premiate in cadrul galei. Anul acesta, in cele 19 de categorii aflate in concurs, au fost nominalizate 320 de proiecte, campanii si persoane, care au fost apreciate de 125 de jurati.
Pe langa continutul relevant din cadrul conferintei si gala de premiere a celor mai bune proiecte din social media, evenimentul ofera nenumarate ocazii de socializare cu vorbitorii invitati, dar si cu alti profesionisti din domeniu prezenti la eveniment.
Mai multe detalii despre program, invitati si participare sunt disponibile pe site-ul oficial al evenimentului: www.webstock.ro.
Webstock este un eveniment organizat de Evensys in parteneriat cu Vodafone Romania si cu sprijinul George, Pepsi, PENNY, Samsung, DELL, Mastercard, Absolut, McDonald's, glo, Siviero Maria, De'Longhi, SpringFarma, Maestro, Bonduelle, Kozel, Socialinsider, Oxygen, MTH Digital.
DESPRE EVENSYS
EVENSYS este o companie de planificare de evenimente, cu peste 16 ani de experienta in organizarea de evenimente business. Evensys este specializata exclusiv pe dezvoltarea de conferinte si de seminarii proprii, ce acopera sapte domenii de activitate: Marketing & Comunicare, Internet & New Media, Financiar & Investitii, HR, Real Estate, Production si Retail. Evenimentele organizate trateaza tematici actuale, care privesc atat industria de business locala, cat si cea din Europa Centrala si de Sud-Est.