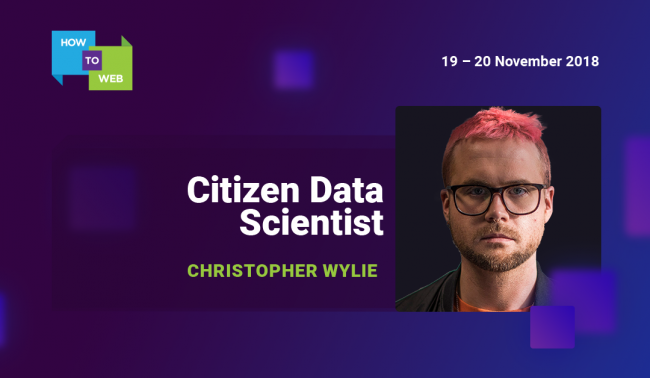 How To Web 2018, cel mai important eveniment de tehnologie din Europa Centrală și de Est, anunță un nou speaker de renume internațional în persoana lui Chris Wylie. Fostul director de cercetare al Cambridge Analytica a devenit cunoscut în lumea întreagă după ce, în luna martie a acestui an, a dezvăluit tacticile de influențare psihologică pe care compania sa le utiliza, încercând să influențeze alegerile prezidențiale din 2016 ale SUA.
Absolvent al Școlii Economice din Londra, Christopher Wylie este un cercetător și data scientist care a lucrat ca senior advisor atât pentru guvernul britanic, cât și pentru cel canadian și are o vastă experiență în utilizarea tehnologiei în vederea îmbunătățirii comunicării și a implicării cetățenilor. El va urca pe scena How to Web 2018 în prima zi a evenimentului, 19 noiembrie, în sesiunea de deschidere "Unicorns and Black Swans" și va vorbi despre cum tehnologia influențează democrațiile la nivel global. Prezentarea lui Chris se aliniază cu segmentul Disrupting Democracy, găzduit de asemenea de scena principală.
Chris este fostul director de cercetare al Cambridge Analytica, parte a SCL Group, companie subcontractată de armata Regatului Unit al Marii Britanii, specializată în războiul informațional. În această calitate, Chris a fost martor la modul în care cultura, informațiile și algoritmii au fost transformate în veritabile arme folosite de armate, guverne și companii pentru a submina alegeri din întreaga lume. În 2018, Christopher a lucrat cu The Guardian și New York Times pentru a expune public modul în care datele personale ale utilizatorilor Facebook au fost exploatate și folosite împotriva cetățenilor obișnuiți.
Chris a fost nominalizat de publicația Times în topul celor mai influenți oameni din lume – Times 100 – pentru aportul său în dezvăluirea riscurilor pe care le prezintă utilizarea necorespunzătoare a datelor și puterea tot mai mare a companiilor de tehnologie. Mărturiile sale din Congresul Statelor Unite ale Americii și Parlamentul Britanic au servit drept un apel de conștientizare pentru mulți și au condus rapid la noi propuneri legislative în ambele țări.
Mai multe informații despre How To Web 2018 se regăsesc pe webite-ul evenimentului – www.howtoweb.co.
One Response to "Fostul director de cercetare al Cambridge Analytica, Chris Wylie, vine la How to Web 2018"
Zelist Blog » Blog Archive » 01 – 07 noiembrie 2018 – Saptamana in Social Media Says:
November 12th, 2018 at 9:30 am

[…] Fostul director de cercetare al Cambridge Analytica, Chris Wylie, vine la How to Web 2018 […]