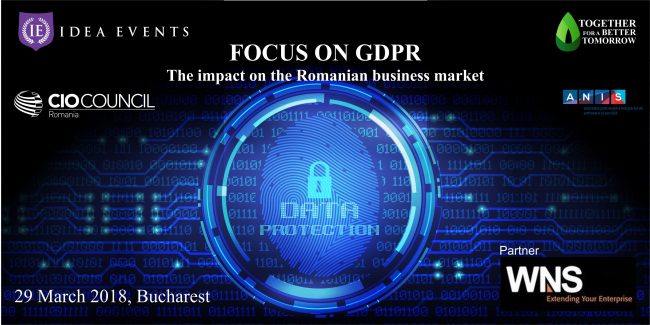 Conferinţa Focus on GDPR – The Impact on the Romanian Business Market, organizată de Idea Events împreună cu Asociaţia Together for a Better Tomorrow, va avea loc în data de 29 martie, în Bucureşti. O discuţie aplicată, dublată de un workshop, pe diverse domenii de activitate, cu specialişti în protecţia datelor din legal, HR, marketing, IT, blockchain şi cyber security, outsourcing, data administration, comunicaţii şi servicii.
Invitatul special al evenimentului, Ivan Savov reprezentant EU GDPR Institute şi Chairman European Risk Policy Institute, va susţine, după eveniment, un workshop de 2 ore, cu măsuri practice de implementare a regulamentului GDPR într-o organizaţie, în urma căruia participanţii vor primi un certificat de participare emis de EU GDPR Institute şi ERPI – Best Practices in Achieving Compliance to GDPR.
Evenimentul va oferi participanților informații teoretice, dar, ceea ce este mai important, o transpunere în practică a reglementarilor GDPR, cu ajutorul specialiştilor invitaţi în calitate de speakeri: Andreea Bucur (WNS), Ana Maria Andronic (DLA Piper), Yugo Neumorni (Hidroelectrica), Fernanda Velter (IBM), Adrian Locuşteanu (Telekom), Mihai Truta (E.ON România), Alexandru Lapuşan (ANIS), Daniel Secareanu (IAB România), Lucia Ciucă (Quantum Data Science), Emil Munteanu (PowerNet Consulting), Cosmin Pătlăgeanu (Luxoft), Mădălin Bratu (Safetech), Sebastian Cochinescu (PhD in Blockchain), Marius Deak (Avandor Consumer Profiling).
Discuțiile vor fi structurate pe 3 paneluri: un prim panel dedicat conturării unui cadru legislativ general și unei discuții privind impactul concret al GDPR pe diferite sectoare (Marketing, HR, IT, Outsourcing), al doilea panel dedicat unei intervenții din partea invitatului special Ivan Savov și un ultim panel dedicat unei discuții aplicate privind sistemele de protecție a datelor, măsuri tehnice, portabilitatea datelor, securitate cibernetică și măsuri în cazul unor breșe de securitate.
Conferința se adresează specialiștilor din următoarele domenii:
Marketing | Communication | Brand identity | Social Media | Sales | HR | Advertising | Legal | Logistics | Facility Management | Database Administrators | Accountancy | Software | IT | Information Security Officers | Cyber Security | Software | Banking | Data Coordinators | Cloud specialists | Transporters | Hospitality | Hospitals and clinics
Pentru informații despre înscrierea la eveniment contactați echipa Idea Events la adresele: oana.bica@idea-events.com/ adinas@idea-events.com, la telefon: 0799.13.12.44 sau accesați site-ul www.idea-events.com.
One Response to "Focus on GDPR – conferinţă&workshop despre noul regulament privind protecţia datelor personale"
Zelist Blog » Blog Archive » 08 – 14 martie 2018 – Saptamana in Social Media Says:
March 19th, 2018 at 11:37 am

[…] Focus on GDPR – conferinta&workshop despre noul regulament privind protectia datelor personale. 29 Martie, Athenee Palace Hilton Bucharest […]