Pe 13 aprilie 2022, Employer Branding Conference propune la Radisson Blu Hotel Bucuresti, dar si online, o editie speciala, dedicata Generatiei Z. Cum sa atragem noile talente, care le sunt preferintele profesionale si mai ales cum sa ii pastram si sa ii crestem in organizatie? Vom afla de la specialisti din recrutare, employer branding, talent development si comunicare in cadrul editiei din primavara.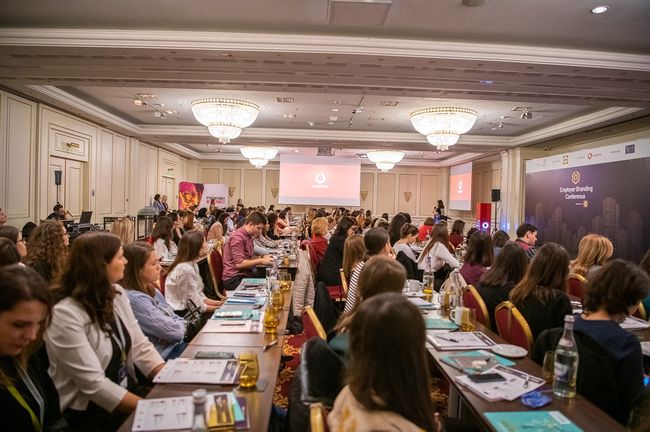 Cu un brand de angajator bine pus la punct, companiile pot atrage candidatii potriviti si pot pastra angajatii valorosi. Employer Branding Conference este o platforma de invatare care ofera un kit complet cu ultimele noutati din resurse umane, dar mai mult decat atat, studii de caz relevante si pline de inspiratie.
Printre vorbitorii acestei editii se numara:
Mihaela Ionita– Director National de Resurse Umane, Lidl Romania
Simona Ciora– Head of Recruitment & Talent Development BCR
Delia Rotaru– VP People & Organisation, eMAG
Simona Berbec– Market HR Leadin Romania, Ungaria, Cehia & Slovacia, Google
Ramona Badescu– HRManager, Bosch Bucuresti
Tudor Petecila– HR Director, Teleperformance Romania
Alina Gheuca– Senior Manager – People, Performance & Culture, KPMG Romania
Cristina Savuica– Chief-happiness Officer Lugera – The People Republic
Paul Olteanu– Founder, Mindarchitect
Anca Pintilie– Head Of Marketing & Employer Branding – EU WFS, Amazon
Laura Rosca– Qualitative ResearcherDirector, iSense Solutions
Dana Nae Popa– Owner & Managing Director, pastel
Raluca Anton– Psiholog
Bogdan Badea– CEO, eJobs Group
Andrei Stupu– Founder, Andrew Beehive Consulting
Daca sunteti interesati de atragerea candidatilor, veti afla:
Care sunt cele mai potrivite strategii de employer branding pentru abordarea generatiei Z
Care sunt cele mai atractive beneficii pentru aceasta generatie
Care sunt cele mai inovatoare cai de comunicare si de pozitionare a brandului de angajator pentru a atrage noile generatii de angajati
Cum sa intelegi si sa integrezi angajatii din generatii diferite
Care sunt abilitatile sociale in dezvoltarea carora ar trebui sa investeasca organizatiile pentru joburile viitorului
STUDIU IN EXCLUSIVITATE
Generatia Z a ajuns in centrul atentiei. Vremurile s-au schimbat, iar perspectivele Gen Z sunt mai relevante ca niciodata, in special pentru cei care vor sa fie in pas cu "ei". Cine este generatia Z, cum se percepe si ce isi doreste de la experienta in campul muncii aflam dintr-un studiu exclusiv realizat de iSense Solutions. Mai mult decat atat, descoperim impreuna cateva dintre cele mai bune solutii de recrutare, retentie si stimulare a angajatilor Gen Z.
Employer Branding Conference revine anul acesta cu o editie hibrid, cu participanti in sala si cu audienta online deopotriva. Mai multe detalii despre eveniment sunt disponibile pe www.employerbrandingconference.ro.
Evenimentul este organizat de Evensys in parteneriat cu Lidl Romania si cu sprijinul BCR, eMAG, Bosch, International House Bucharest, iSense Solutions, pastel.