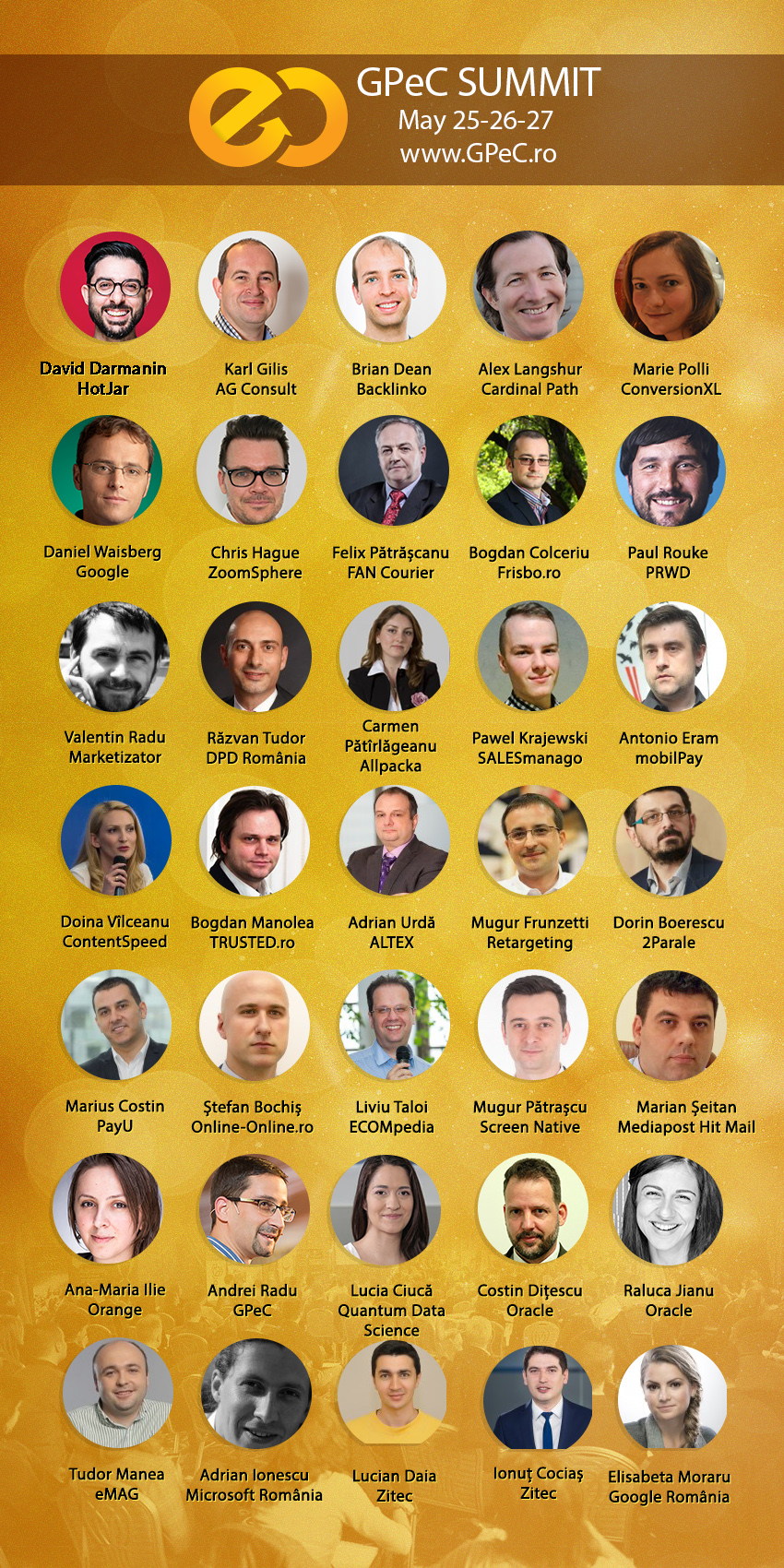 GPeC Summit 25-26-27 Mai, cel mai asteptat eveniment de E-Commerce din tara, anunta ca a mai ramas doar o singura zi de inscrieri pentru a 11-a editie anuala a evenimentului GPeC Summit, care se va desfasura pe 25-26-27 mai 2016, la Bucuresti. Evenimentul anului in e-commerce va lua startul miercurea aceasta, 25 mai, cu o zi grandioasa de conferinta internationala de comert electronic si marketing digital.
Evenimentul cuprinde o zi de conferinta si doua zile de workshop-uri, cu speakeri autohtoni si internationali. Principalele teme de discutie vor fi tendintele actuale pe piata digitala locala si internationala, comportamentul consumatorilor si perspectivele de viitor din industrie.
"GPeC Summit 2016 cuprinde o agenda cu totul speciala, dovada fiind toti acesti speakeri internationali care au acceptat invitatia noastra de a impartasi cu membrii comunitatii GPeC din experienta lor. Participantii la acest eveniment vor pleca de aici cu informatii extrem de relevante pentru mediul digital, studii de caz si tips&tricks din partea unora dintre cei mai renumiti practicieni in domeniu. Va invit sa profitati de ultima zi de inscrieri si multumim tuturor celor care s-au inscris deja!" a declarat Andrei Radu, fondator si CEO GPeC.
Pe scena GPeC Summit 25-26-27 Mai vor urca unii dintre cei mai renumiti experti si practicieni in E-Commerce si Digital Marketing:
Alex Langshur (Co-Founder Cardinal Path & Director Emeritus Digital Analytics Association)
Daniel Waisberg (Google Analytics Advocate pentru Google UK)
David Darmanin (Founder Hotjar)
Karl Gilis (Co-Founder AGConsult)
Marie Polli (Senior Optimization Strategist ConversionXL)
Brian Dean (Founder, CEO and SEO Blogger Backlinko)
Chris Hague (Communications & Marketing Manager ZoomSphere)
Paul Rouke (Founder & Director of Optimisation PRWD)
Pawel Krajewski (Team Leader SALESmanago)
Adrian Ionescu (Azure Business Development Manager Microsoft Romania)
Felix Patrascanu (Managing Partner FAN Courier)
Ana-Maria Ilie (Digital Marketing Manager Orange Romania)
Razvan Tudor (Director Comercial DPD Romania)
Antonio Eram (CEO & Founder NETOPIA mobilPay)
Adrian Urda (Vicepresedinte ALTEX Romania)
Tudor Manea (General Manager eMAG Romania)
Carmen Patirlageanu (Business Development Manager ALLPACKA.ro)
Marian Seitan (General Manager Mediapost Hit Mail)
Marius Costin (CEO PayU Romania)
Stefan Bochis (Product Manager Online Credius IFN)
Doina Vilceanu (Chief Marketing Officer ContentSpeed)
Lucian Daia (Head of Custom Solutions Zitec)
Ionut Cocias (Head of Business Development Zitec)
Bogdan Colceriu (CEO Frisbo)
Mugur Frunzetti (Co-Fondator & Chief Marketing Officer Retargeting)
Elisabeta Moraru (Industry Manager Google Romania)
Raluca Jianu (Cloud Solutions Consultant Oracle Romania)
Cristian Ditescu (Principal Sales Consultant Oracle Romania)
Bogdan Manolea (Co-Fondator TRUSTED.ro)
Liviu Taloi (Co-Fondator ECOMPEDIA.ro & Community Manager GPeC)
Dorin Boerescu (CEO 2Parale & 2Performant)
Mugur Patrascu (Founder & Managing Director ScreenNative)
Lucia Ciuca (Managing Director Quantum Data Science)
Programul GPeC Summit 25-26-27 Mai 2016
Ziua 1, 25 Mai 2016 – Conferinta GPeC Summit & GPeC E-Commerce Expo
• 1 zi de Conferinta Premium cu subiecte de maxim interes: Optimizarea Conversiilor & Cresterea Vanzarilor, Usability, Marketing Online, Split Testing, Targetare Comportamentala & Personalizare, SEO, SEM, Web Analytics, E-Commerce Tools, Logistica & Curierat, Studii de Caz;
• Cifre, statistici si tendinte de evolutie in comertul online romanesc si European – afli ultimele cifre de piață de la reprezentanții ALTEX, eMAG, mobilPay, PayU, Google;
• GPeC E-Commerce Expo: intalniri si discutii intre magazinele online si principalii furnizori de solutii si servicii de comert electronic din Romania;
• GPeC E-Commerce Party – prima zi de eveniment se incheie cu o petrecere speciala, concert live The ROCK (AC/DC Tribute Band) si o excelenta oportunitate de networking.
Ziua 2 si Ziua 3, 26 & 27 Mai 2016 – Workshop-urile GpeC
• 2 zile de Workshop-uri – 18 ore de continut aplicabil imediat, reunite in 12 workshop-uri;
• Workshop-uri sustinute de cei mai buni traineri internationali si romani – printre care Alex Langshur (Co-Fondator si Senior Partner al Cardinal Path), Karl Gilis (Co-Fondatorul companiei belgiene AGConsult), Marie Polli (Senior Optimization Strategist ConversionXL), Chris Hague (Communication & Marketing Manager ZoomSphere), Pawel Krajewski (Business Development Manager SALESmanago).
Biletele pentru GPeC Summit se mai pot achizitiona doar azi, 23 mai 2016! Mai multe detalii despre politica de preturi, avantajele participarii, speakeri si inscriere, regasiti pe website-ul GPeC.