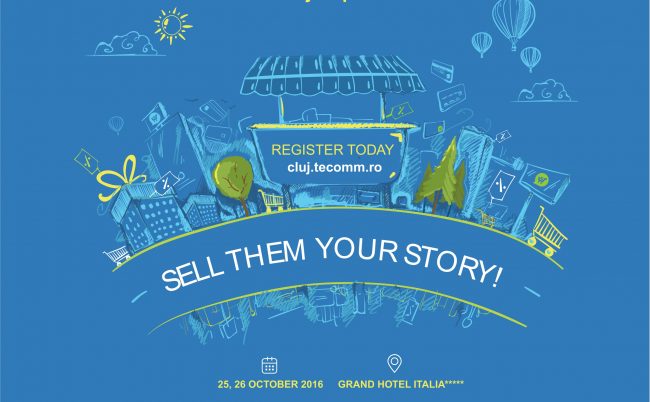 Companii de renume precum Facebook, Amazon, Google sau Apple folosesc conceptul de storytelling ca o puternica strategie de comunicare a brand-ului pentru a crea relatii noi si a creste astfel rata de conversie.
Catalina Ionescu, Client Partner for Global Marketing Solutions la Facebook, va impartasi in cadrul TeCOMM eCommerce Conference& Expo modalitatile prin care companiile isi pot creste vanzarile prin intermediul storytelling-ului.
Cu o experienta de peste 8 ani in marketing, Catalina a lucrat in trecut pentru Procter& Gamble, iar in prezent, activitatea sa se axeaza pe dezvoltarea strategiilor de afaceri, utilizand servicii si produse Facebook.
Storytelling-ul, unul dintre marile avantaje ale platformelor Facebook si Instagram
In cadrul workshop-ului Cum sa vinzi mai mult prin storytelling, Catalina va prezenta studii de caz care vin in ajutorul magazinelor online ca sursa de inspiratie pentru dezvoltarea afacerilor prin cresterea vizibilitatii brand-ului si, in final, a vanzarilor.
Povestile de succes – tendinta anului 2016 in eCommerce
In comertul electronic, storytelling-ul nu este de neglijat, povestea din spatele unui produs fiind unul dintre principalii factori care ii indeamna pe cumparatori sa-l aleaga, conform publicatiei engadget.com. Utilizarea storytelling-ului poate aduce cresteri si beneficii considerabile unui brand, reteaua de socializare Facebook inregistrand, in al doilea trimestru al anului curent, venituri de 6,44 miliarde de dolari, in crestere cu 59% fata de anul precedent, arata paginademedia.ro. Un factor important in acest sens a fost, conform fondatorului Mark Zuckerberg, progresul pe care serviciul de video l-a inregistrat.
Cu toate acestea, pentru a crea imaginea unui brand si pentru a creste vanzarile, proprietarii de magazine online si profesionistii in eCommerce au nevoie, pe langa povestea brand-ului si de cat mai multe date cu privire la clientii sau potentialii clienti. Lucia Ciuca, Managing Director la Quantum Data Science, va sustine in cadrul TeCOMM workshop-ul Cum sa utilizezi DATE pentru compania si strategia de marketing, unde va prezenta studii de caz care masoara audienta publicului si ofera o intelegere mai buna a consumatorilor de online.
Start-up Area, cum sa creezi si sa dezvolti un magazin online de la A la Z
Noutatea acestei editii o reprezinta Start-up Area, sesiunea dedicata celor care intentioneaza sa isi deschida un magazin online sau proprietarilor care se afla la inceputul unei astfel de initiative. Start-up Area este o sectiune structurata sub forma a patru workshop-uri, in cadrul carora participantii vor afla cum isi pot deschide magazinul online, cum sa isi aleaga compania de curierat si logistica si cum anume trebuie sa fie comunicat brand-ul, si alte aspecte care duc la fidelizarea clientilor. Profesionistii in eCommerce care vor sustine workshop-urile in cadrul Start-up Area sunt:
 Calin Biris (Director Digital Loopaa Marcom),
 Cosmin Daraban (CEO Co-Fondator Silkweb)
 Attila Birtha (Managing Partner Proclick).
Workshop-uri, prezentari si sesiuni de dezbateri, in ambele zile ale evenimentului
Evenimentul TeCOMM include in cele doua zile ale evenimentului prezentari, workshop-uri si dezbateri sustinute de peste 30 de speakeri internationali si nationali. In prima zi a evenimentului vor avea loc prezentarile sustinute de speakerii Ivan Imhoff (Fondator House of Kaizen), Paul Papadimitriou (Fondator Intelligencr), Jonathan Chippindale (Director Executiv Holition), Hando Sinisalu (CEO Best Marketing International), Giacomo Summa (CEO & Co-fondator Stylect) si Mitch Goldman (Head of Product Storegecko).
Cea de-a doua zi a evenimentului este dedicata workshop-urilor, iar subiectele prezentate se vor axa pe Marketing, Antreprenoriat si Conversii/SEO/PPC. Alaturi de Catalina Ionescu, speakerii Marius Deak (Fondator& CEO Green Pixel), Monica Jitariuc (Managing Director The Practice MSLGROUP), Lucia Ciuca (Managing Director Quantum Data Science), Ovidiu Joita (Director iAgency), Florinel Ioan Chis (Director Executiv AMRO), Cristian Ignat (Chief Canopyst Canopy), Sergiu Negut (Associate Dean, Maastricht School of Management) si Ionut Grosu (Managing Director & Founder la Service Return).
Cea de-a 9-a editii a evenimentului TeCOMM reuneste in 25-26 octombrie, la Grand Hotel Italia din Cluj-Napoca, peste 300 de proprietari ai magazinelor online si profesionisti in eCommerce.