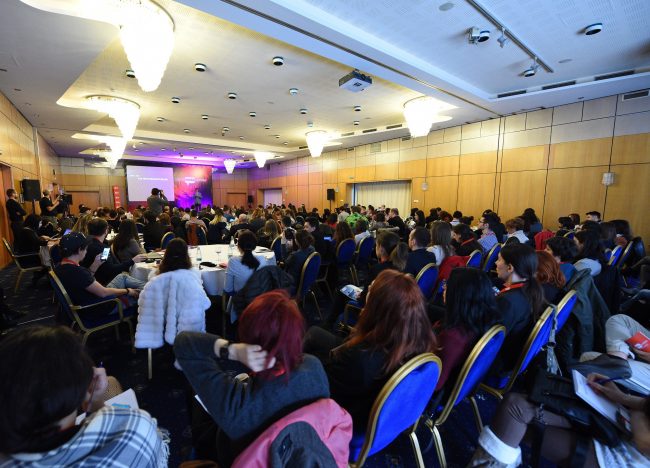 Social Media Summit Bucuresti este conferinta care iti prezinta la fiecare inceput de an tendintele si principalii jucatori din social media. In premiera, la editia din 1 martie, de la Hotel Radisson Blu, Bucuresti, echipa Biz va lansa un nou proiect editorial – Digital Report.
Venind in intampinarea companiilor care vor sa cunoasca peisajul social media si care doresc listele cu principalele agentii digitale, cei mai relevanti bloggeri si influenceri, instagrammeri sau agentiile care colaboreaza cel mai mult cu canalele social media, revista Biz va lansa prima editie a booklet-ului Digital Report.
Pe langa traditionalele rezultate ale studiilor exclusive: Top bloggeri cu care colaboreaza agentiile si companiile, Top agentii care au lucrat cu bloggerii in 2016 si listele cu cele mai relevante nume din blogosfera romaneasca, Digital Report, reuneste informatii despre cele mai importante agentii de digital din Romania, tendinte si evolutii ale pietei de digital, top cei mai urmariti vloggeri, top conturi de Instagram.
Vino la Social Media Summit Bucuresti sa inveti cum se gandesc, creeaza si implementeaza cele mai puternice campanii de social media din Romania!
Intre speakerii acestei editii se numara: Mihai Hash, Founder, Doza de Has; Tudor Galos, Consumer Marketing Director, Microsoft Romania; Emilia Branzan, Industry Manager Branding, Google Romania; Michele Grassi, General Director, Enel Energie si Enel Energie Muntenia; Radu Atanasiu, Adjunct Lecturer, Maastricht School of Management Romania; Alexandru Oancea, Marketing Manager, VEKA Romania; Mugur Patrascu, Founder, Screennative; Catalin Tenita, Managing Partner, TreeWorks; Monica Botez, Managing Partner, Golin Romania; Monica Jitariuc, Managing Director, MSLGROUP The Practice. Mai multi vorbitori pot fi vazuti aici: http://www.revistabiz.ro/smsbucuresti2017/despre-speakeri/
Vino si descopera domeniul care a revolutionat industria publicitatii!
Cea de-a 6-a editie a evenimentului Social Media Summit Bucuresti are loc pe 1 Martie, la Hotel Radisson Blu, intre orele 8:30-16:00.
Mai multe detalii despre speakeri, agenda si inscriere se gasesc pe pagina: http://www.revistabiz.ro/smsbucuresti2017/.
Partenerii evenimentului sunt: Aqua Carpatica, Caroli Foods Group, Staropramen, KFC, enel, Siviero Maria, Grafica si Tipar si Update Advertising.
Despre Biz
Biz este brandul care reuneste o puternica comunitate de oameni de afaceri, atat online, cat si offline. Redactia s-a impus prin realizarea unor importante studii si topuri in parteneriat cu agentii de research, pe cele mai importante domenii de activitate din Romania: Top 50 companii performante, Anuarul Directorilor de Marketing, Top 20 companii IT pentru care merita sa lucrezi, Topul Agentiilor de PR din Romania, Brand Ro sau BizTech.
Biz este unic laureat Red Dot din Romania. In premiera absoluta pentru Romania, Brandient si Biz au castigat legendarul premiu Red Dot Design Award, cea mai prestigioasa competitie internationala de design, pentru coperta editiei BizSingapore Jurnalistii revistei au lansat puternice campanii de constientizare a valorilor romanesti (Sustinem inovatia, Sunt un taran) sau proiecte unice in lume precum Biz Marketing Xchange, provocarea prin care cei mai important directori de marketing din Romania isi schimba, pentru o zi, compania in care lucreaza. O alta inovatie este Biz World, editii ale revistei realizate integral peste hotarele tarii, in Bruxelles, Londra, SUA, Germania, Singapore si Austria.
Biz este un brand unic in mass-media de afaceri din Romania. De 15 ani organizeaza puternice evenimente de afaceri in 9 orase din tara si 8 capitale din lume, de pe 3 continente.
One Response to "Digital Report se lanseaza la Social Media Summit Bucuresti"
Zelist Blog » Blog Archive » 16 – 22 februarie 2017 – Saptamana aceasta in Social Media Says:
February 27th, 2017 at 11:14 am

[…] Report se lanseaza la Social Media Summit Bucuresti, 1 martie, Hotel Radisson Blu, […]