Astăzi, companiile B2B trebuie să se concentreze pe personalizarea campaniilor lor de marketing pentru a fi convingătoare în fața clienților potriviți.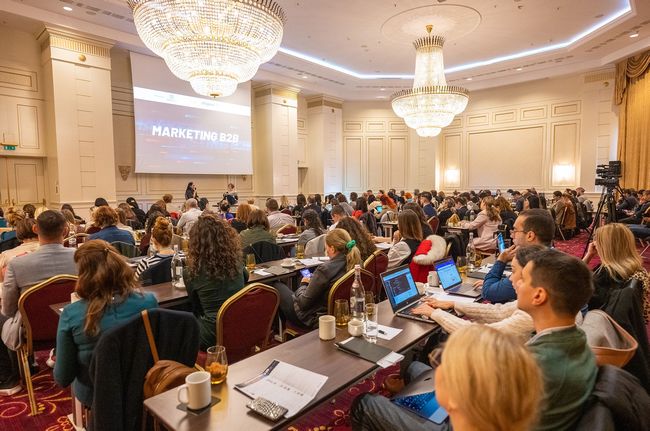 Totodată, inteligența artificială transformă modul în care companiile se conectează cu clienții potențiali și construiesc relații. Nu în ultimul rând, datele joacă un rol din ce în ce mai important în optimizarea strategiilor.
Acestea sunt câteva dintre tendințele momentului în marketingul business-to-business, ce vor fi aduse în prim-plan la cea mai importantă conferință de profil din România.
Pe 17 noiembrie, la hotel JW Marriott din București, Marketing B2B Conference 2023 își propune să reunească profesioniști, lideri de opinie și specialiști din industria marketingului pentru a dezbate și a împărtăși cele mai noi strategii și a găsi soluții la provocările cu care se confruntă companiile.
Printre vorbitorii acestei ediții se numără specialiști recunoscuți la nivel internațional, profesioniști cu experiență vastă în marketingul B2B și practicieni care au contribuit la evoluția domeniului:
• John Harding-Easson (Head of Influence – EMEA, Ogilvy)
• Diana Tănase (Marketing Director, Mastercard)
• Gabriella Pacso (EMEA Product Led Growth & New Clients Acquisition Leader, IBM)
• Răzvan Bărbulescu (Director Global Marketing Communications, Garrett Motion)
• Ruxandra Băndilă (Marketing & Business Development Director, Deloitte România)
• Raluca Dumitra (Head of Marketing, eJobs Group)
• Elena Mandache (Marketing Manager, Eldrive)
• Alice Gavril (Managing Partner, Godmother)
• Robert Katai (B2B Marketing Consultant)
• Maria Tătaru (Marketing Manager, Autonom).
Mai multe detalii despre program, invitați și participare sunt disponibile pe site-ul oficial al evenimentului: www.marketingb2b.ro.
Marketing B2B Conference 2023 este un eveniment organizat de Evensys în parteneriat cu Mastercard, MRM și Godmother.