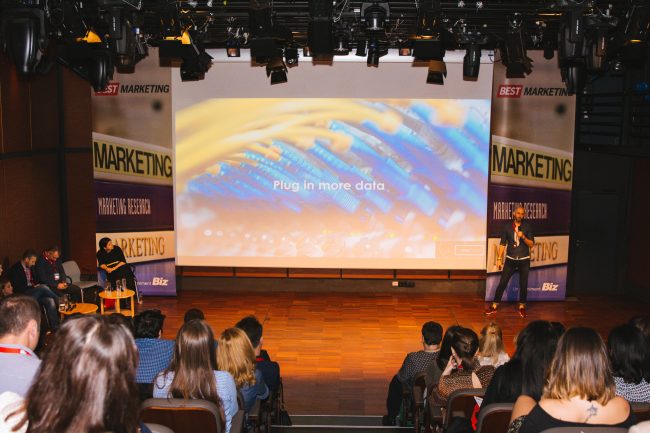 Conferinta Best Marketing, organizata de echipa revistei Biz, revine in aceasta toamna la Cluj-Napoca pentru o noua editie. Evenimentul prezinta tendintele in marketing si analizeaza noua paradigma la care profesionistii in comunicare trebuie sa se adapteze ca sa faca fata cerintelor ce vin din partea noului consumator.
Conferinta Best Marketing Cluj va avea loc pe 3 Octombrie la Double Tree by Hilton, Cluj-Napoca.
Printre invitatii la eveniment se numara specialisti din marketing, publicitate si comunicare, top advertising spenders si manageri de top, intr-o discutie despre provocarile si oportunitatile actuale in comunicare. Dintre speakeri ii amintim pe:
Irina Roncea, Deputy Managing Director, Golin Romania
Irina Roncea are o experienta de peste 12 ani in comunicare si o expertiza extinsa in strategie de brand si corporate. A coordonat, in cei 6 ani la Golin, comunicarea a zeci de clienti din industrii precum financiar-bancar, telecom, farma, FMCG, real estate. Are si o specializare puternica in CSR. Incepand cu luna iulie, Irina Roncea este noul Deputy Managing Director al Golin Romania, pozitie din care va coordona operatiunile agentiei.
Matei Psatta, Head of Marketing, VOLA.ro
La doar 26 de ani, Matei are deja o experienta de aproape 7 ani in comunicare si marketing digital. In prezent, este Head of Marketing la Vola.ro, iar in trecut a fost Social Media Manager la GMP PR si Digital Strategy Director la Leo Burnett. A cofondat si propriul startup international – The Pole Society. A lucrat pentru branduri precum P&G, Telekom, HP, Samsung, BRD, Absolut, Philip Morris, GSK, Pepsi, Bergenbier, Ursus, Fundatia Bill & Melinda Gates. De-a lungul anilor a contribuit la campanii premiate la festivaluri locale si internationale, printre care Internetics, Effie, European Digital Awards, PR Awards, Webstock, Cannes Lions.
Raluca Kisescu, Brand Marketing Strategist, Trainer & Coach
Cu un majorat in marketing, peste un deceniu ca director de marketing si un prim an de freelancing, Raluca Kisescu se simte ca Benjamin Button. Dupa ce a coordonat tot ce ce inseamna activarea de brand pentru Avon, se incearca pe sine intr-o jungla urbana a consultantei pe cont propriu. Se ocupa cu structuri si procese, job profiles, planning, strategie de brand comercial si social, pitch-uri, briefuri si idei creative. Este de asemenea, trainer-consultant pe module online Harvard Manage Mentor in cadrul Qualians Learning & Development Consultancy.
Carmen Sterian, Strategic Thinking, Managing Partner, HIPPOS
Carmen Sterian are peste 15 ani de experienta in marketing si publicitate, timp in care a lucrat pentru mai multe companii multinationale si locale din Romania si Belgia (Foss, McCann Erickson, Saatchi & Saatchi, Ogilvy & Mather) si 11 ani de experienta in PR, ATL, BTL, New Media prin activitatea desfasurata pentru branduri precum: Vodafone, Coca-Cola, Sprite, ING, L'Oreal, Maybelline, Kandia, Rom, Radio XXI, Raiffeisen Bank, Berlin Chemie, Bancpost, Heineken, Zentiva, Microsoft, Chio, VISA, Toyota, Ford, PMI, Jack Daniel's.
Tudor Galos, Senior Consultant, Tudor Galos Consulting
Cu 15 ani experienta in pozitii de marketing locale si regionale in cadrul companiei Microsoft si peste 800 prezentari la activ Tudor Galos este un speaker pasionat, un evanghelist pentru tehnologiile disruptive, dar si pentru abordari inedite de marketing precum "Agile Marketing". A pornit ca Desktop Product Manager pe Romania si Bulgaria fiind responsabil de lansari precum Windows XP Service Pack 2 si Office 2003, apoi a coordonat activitatile de marketing pentru Windows in cadrul regiunii Europa de Sud – Est. In 2006, in cadrul echipei Microsoft Romania a coordonat lansarile Windows Vista, Office 2007, Windows 7 precum si cea a Internet Explorer 8, 9 si 10. In prezent este Senior Consultant la propria firma, prin care ii ajuta pe clienti sa extinda sau sa dezvolte noi afaceri sau startup-uri.
Mai multe detalii despre program si speakeri regasiti pe site-ul evenimentului Best Marketing Cluj.