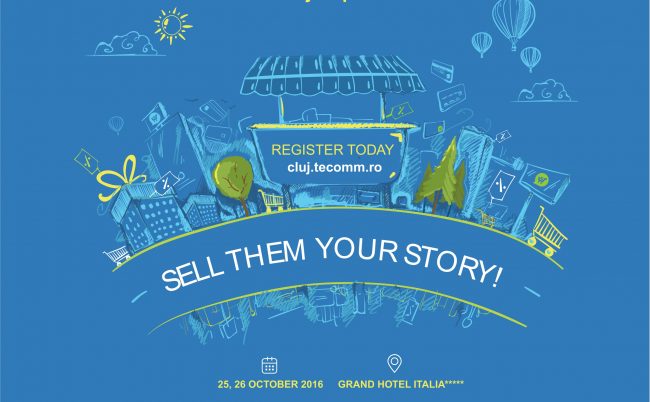 Sell them your story! este tematica sub care vor fi reunite prezentarile complexe, workshop-urile interactive si dezbaterile pe tematici de actualitate a peste 30 de speakeri nationali si internationali, specialisti in domeniul comertului electronic.
Structurat pe doua zile, evenimentul TeCOMM eCommerce Conference & Expo aduce impreuna in 25 si 26 octombrie, la Grand Hotel Italia din Cluj-Napoca, peste 300 de proprietari de magazine online si specialisti din domeniul eCommerce, in cadrul celei de-a 9-a editii a evenimentului.
Prima zi este dedicata conferintei propriu-zise, iar in cadrul acesteia vor sustine prezentari speakeri recunoscuti la nivel mondial precum Jonathan Chippindale (Chief Executive of Holition), Mitch Goldman (Head of Product & Partnerships Storegecko), Giacomo Summa (Co-Fondator & CEO Stylect), Florin Filote (Marketplace director eMAG), Mihai Patrascu (Fondator & CEO evoMAG), Marius Costin (Country Manager PayU) sau Toma Matei (Head of Commercial Eastern Europe Ve Interactive). Acestia vor aborda subiecte precum: publicitatea prin video-urile programatice, platile online sau evolutia mCommerce-ului.
Marketing-ul, antreprenoriatul si conversiile – aspecte cheie discutate in cadrul workshop-urilor din a doua zi a evenimentului
Ziua de 26 octombrie este dedicata workshop-urilor pe teme de interes din domeniul marketing-ului, antreprenoriatului sau conversii/SEO/PPC. In cadrul sesiunii Markday, workshop-urile vor fi sustinute de catre Catalina Ionescu (Client Partner eCommerce CEE), Marius Deak (Founder & CEO Avandor), Alexandra Craciun (Communication Consultant) si Lucia Ciuca (Managing Director Quantum Data Science).
Workshop-urile dedicate antreprenoriatului vor fi sustinute de speakeri nationali si internationali precum Alexander Goesswein (Central Europe Managing Director Criteo), Sergiu Negut (Dean MSRM), Ionut Grossu (Managing Director & Co-Founder Service Return) si Catalin Popa (Azure Business Development Manager Microsoft). De asemenea, Roxana Petre (Business Development Manager Romania MasterCard) va sustine prezentarea "The future of payment is now!".
Tematica conversiilor/SEO/PPC este abordata de Urs Eros (Manager InterNetX), Grews Gore (Sales Account Manager), Cristian Ignat (Chief Canopyst Canopy), Florinel Ioan Chis (Executive Director ARMO) si Ovidiu Joita (Owner IAgency), ce vor prezenta studii de caz relevante in domeniu.
Black Friday in Romania 2016 – despre pasiunea romanilor de a face cumparaturi online, strategii si studii de caz. 
In cea de-a doua zi a evenimentului va avea loc sesiunea de dezbatere pe tema Black Friday 2016, in cadrul careia Victor Tighinean (General Manager ECCO Shoes), Mihai Patrascu (Founder & CEO evoMAG), Ionut Grossu (Managing Director & Co-Founder Service Return) si Roxana Petre (Business Development Manager Romania MasterCard) vor vorbi despre strategiile utilizate de catre companii in ziua cunoscuta drept vinerea neagra a reducerilor.
Incepator in eCommerce? Start-up Area este sesiunea dedicata celor la inceput de drum in comertul electronic
In premiera, TeCOMM va include in acest an, sesiunea Start-up Area, dedicata companiilor care nu detin inca un magazin online. Speakerul international Maarten Deboo (CEO Baldwin) va discuta despre cum poti creste rata de conversie, iar Attila Birtha (Managing Partner Proclick) va prezenta pasii necesari pentru a incepe o afacere in online. Calin Biris (Digital Director Loopaa Marcom) va sustine workshop-ul pe tema Branding and Marketing my eCommerce business, iar Cosmin Daraban (CEO & Co-Founder Silkweb) va prezenta modul in care o companie poate sa-si formeze si sa-si mentina relatia cu clientii.
TeCOMM eCommerce Conference & Expo a reunit in ultimii 5 ani in Cluj-Napoca peste 1400 de participanti si a inclus peste 250 de prezentari, workshop-uri si dezbateri sustinute de peste 180 de speakeri nationali si internationali. Evenimentul este organizat de Libero Events, agentia de evenimente si PR, B2B si B2C, sub semnatura careia au loc conferinte si workshopuri: The Woman, HR Summit, TeCOMM, MarkDay, Architecture, Software Architecture Day, Digital Travel Forum, Fiscalitate 24.7, Cluj Sales Conference, Signal Connect, dar si targuri: Touristica.
Companiile care au inteles aportul pe care conferinta de eCommerce il are in dezvoltarea mediului de afaceri online si care sustin acest eveniment sunt:
Main Partner: Raiffeisen Bank Gold Sponsor: Ve Interactive, Mastercard
Silver Partner: PayU
Recommended Payment Processor: Netopia mobilPay
Parteneri: Microsoft, DPD, Easyhost, DWF, Hostvision, Proclick, IAgency, Service Return, Profitshare,
Conectoo, Chic Ville, EuroGSM, MxHost, Optivoice, Free Wifi, Findoo.ro, OpenVille, Mready, Filadelfia Turism.
Official car: Pony Car Sharing