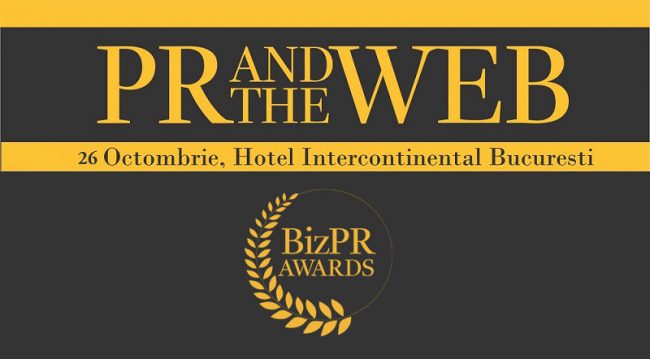 Revista Biz organizeaza pe 26 octombrie cea de a sasea editie a evenimentului PR and the WEB, la Hotel Intercontinental, Bucuresti. In cadrul conferintei se vor lansa in exclusivitate rezultatele studiului Top PR Romania 2016.
Topul prezinta cele mai puternice agentii de PR in 2016 si este alcatuit in baza analizei mai multor indicatori care masoara performantele financiare ale agentiilor si imaginea pe care acestea o au in randul companiilor care apeleaza la servicii de PR.
Studiul se afla la a patra editie si este realizat de Biz in parteneriat cu compania de cercetare Unlock Market Research. Conferinta PR and the WEB se adreseaza specialistilor in comunicare si prezinta idei si strategii adaptate cerintelor actuale din industria de PR. Printre temele ce vor fi abordate in cadrul editiei din acest an se numara: cele mai bune practici in masurarea activitatii de PR, managementul talentelor si provocarile freelancingului in PR.
Vor vorbi profesionisti in comunicare recunoscuti in industria romaneasca, precum: Crenguta Rosu, DC Communication; Ruxandra Voda, Telekom; Monica Jitariuc, MSLGROUP The Practice; Oana Bulexa, MSLGROUP The Practice; Monica Botez, Golin Romania; Felicia Moga, DC Communication si Anca Rancea, Asociatia Freelancerilor.
Conferinta este urmata de Gala BIZ PR Awards 2016, unde se vor oferi mai multe distinctii, printre care:
1. Premiul pentru notorietate in PR
2. Cea mai buna reputatie in PR
3. Premiul pentru cea mai rapida ascensiune
4. Premiu pentru performanta financiara
5. Premiu pentru performanta in PR
6. Premiul pentru creativitate in PR
7. Premiul de excelenta in PR
Pentru mai multe detalii despre program si inscriere va rugam sa accesati PR and the WEB.