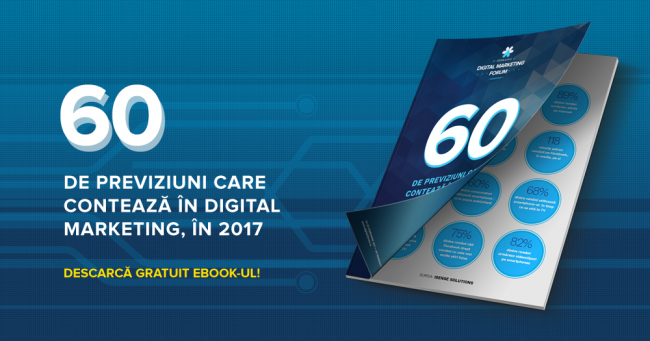 Digital Marketing Forum, primul eveniment dedicat industriei de  promovare online din tara, va strange comunitatea practicienilor in marketing din  Romania, pe 23-24 februarie, la JW Marriott Hotel. Cu ocazia celei de-a unsprezecea  editii, Evensys lanseaza un eBook gratuit care cuprinde cele mai importante tendinte in  digital marketing in 2017.
 60 de specialisti din marketing, comunicare si mobile au raspuns in cadrul acestui eBook. Ei  si-au exprimat parerea profesionala despre cea mai importanta tendinta pe care oamenii de  marketing trebuie sa o ia in considerare anul acesta daca folosesc in strategia lor componente  din domeniile:
Digital Marketing
Online Advertising
Social Media
Mobile Marketing
Performance
Online Video
Blogging
Noi platforme de social media
 Printre cele mai importante previziuni se numara: ascensiunea video content-ului: "Cea mai  importanta dintre toate, local, va ramane tendinta pe care o anticipam si anul trecut:  cresterea investitiilor in continut video personalizat."- Costin Radu, Managing Director,  Saatchi & Saatchi + The Geeks, importanta mobile-ului: "anul acesta ar trebui sa vedem o abordare mobile first, cu bannere gandite pentru a fi bine primite pe dispozitive mobile si  destinatii web cu teme adaptate pentru ecranele telefoanelor mobile"- Dan Virtopeanu,  Managing Partner, Breeze Mobile, orientarea catre native advertising: "native  advertising inseamna integrarea mesajului in flowul editorial. Cu cat mesajul este mai  integrat in platforma de content, cu atat creste probabilitatea engagementului si a efectului  viral"- Bogdan Nitu, General Manager, WEBSTYLER.
 Ebook-ul poate fi descarcat gratuit de AICI.
Despre Digital Marketing Forum
Digital Marketing Forum este evenimentul care aduce in fiecare an cele mai noi tendinte,  oportunitati, solutii si studii de caz relevante din industrie, solutii aplicate si idei creative  oamenilor de marketing din companiile multinationale sau romanesti.
 La cele 8 sesiuni de conferinte de pe 23 februarie vor lua parte peste 30 de vorbitori din tara si  din strainatate (Olanda si Marea Britanie), oferind astfel o imagine de ansamblu asupra  domeniului. Printre invitatii locali acestei editii se numara: Denisa Mihai (PR & Digital  Manager, Avon Romania si Moldova), Andreea Munteanu (Senior Brand Manager, Pernod  Ricard), Irina Scarlat (Marketing Manager, UBER), Alexandru Cernatescu (CEO & Co- Founder, Infinit Agency), Matei Goncea (Digital Marketing Manager SCE,  Tefal/Rowenta/Krups), Valentin Radu (CEO, Omniconvert), Traian Nastase (Managing  Partner, iSense Solutions). Lista completa a speakerilor este disponibila pe site-ul oficial,  www.digitalforum.ro.
 La conferinta vor sustine prezentari si Rogier Croes, Chief Digital Officer CEE Russia,  Ukraine and CIS, MEC si Tim Fidgeon, Digital Consultant & Trainer, UK.
 Training intensiv
Pe 24 februarie, Tim va sustine si un curs avansat dedicat celor mai bune practici si  strategii in digital. Acest training va oferi informatii cu aplicabilitate imediata, dar si pe  termen lung si reprezinta o buna ocazie pentru practicieni de a-si concentra atentia asupra  unor teme precum adaptarea creatiei in functie de publicul tinta, importanta personalizarii in marketingul digital, principiile care conduc la realizarea conversiilor sau tendintele pe  Facebook Instagram, LinkedIn si YouTube. Mai multe detalii despre curs sunt disponibile  aici. Locurile sunt limitate.
 Beneficii
Participantii la conferinta vor primi un pachet de beneficii in valoare de peste 400 de euro de  la companiile: Zelist, Uber, Bannersnack si Dreamstime.
Digital Marketing Forum este un eveniment organizat de Evensys in parteneriat cu Avon,  Infinit Agency si Conversion.
Despre Evensys
EVENSYS este o companie de planificare de evenimente, cu peste 10 ani de experienta in  organizarea de evenimente business. Evensys este specializata exclusiv pe dezvoltarea de  conferinte si de seminarii proprii, ce acopera sapte domenii de activitate: Marketing & Comunicare, Internet & New Media, Financiar & Investitii, HR, Real Estate, Production si  Retail. Evenimentele organizate trateaza tematici actuale, care privesc atat industria de  business locala, cat si cea din Europa Centrala si de Sud-Est.
One Response to "Cele mai importante tendinte in Digital Marketing in 2017. Descarca gratuit eBook-ul!"
Zelist Blog » Blog Archive » 02 – 08 februarie 2017 – Saptamana in Social Media Says:
February 13th, 2017 at 10:48 am

[…] Digital Marketing Forum, primul eveniment dedicat industriei de  promovare online din tara, va strange comunitatea practicienilor in marketing din  Romania, pe 23-24 februarie, la JW Marriott Hotel […]