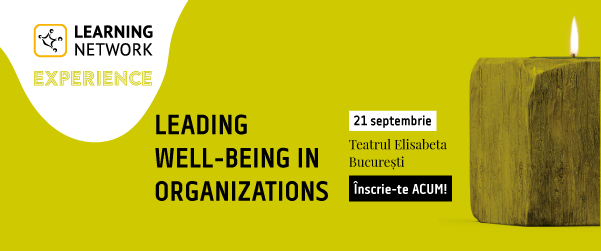 Well-being-ul este în continuă expansiune. Evenimentul își propune să aducă în prim plan ceea ce reprezintă bune practici pentru domeniu și trenduri. Arhitectura evenimentului se bazează pe un mini-training de implementare a programelor de well-being (susținut anul acesta de Cristina Mihai – The Wisery), o sesiune de best practice și 4 programe tip demo.
De ce Leading Well Being in Organizations?
Leading Well Being in Organizations are ca obiectiv sustinerea organizațiilor sănătoase. Iar o organizație este sănătoasă atunci când oamenii ei sunt fericiți. Participanții la well-being acceseaza rapid informație relevanta despre construirea unui business case pentru board pentru susținerea programelor în organizații, vor înțelege necesitatea alinierii la strategia organizației a programelor și modalitățile de calculare ROI.
Temele abordate in 2017:
Desingning Effective Wellbeing Programs
Corporate Heath Management
Stress Management
Boundless Performance
Cine vine la Leading Well Being in Organizations?
Primele workshopuri confirmate anul acesta sunt: Cristina Mihai – The Wisery, Simona Nicolaescu – Dynamic HR, Exec Edu, Brainlight, Adriana Radu – AR+ Solutions.
Companiile care au participat în edițiile anterioare: Accenture, AMA Romania, Actavis, Adient, Autonom Service, Automobile Dacia, Danone, Bancpost, Crystal Dental Clinic, Cetelem, DB Schenker, ENGIE, EOS KSI, Federal Mogul, Genpact, G2 Travel, Holcim, HP, JTI, ING, Intrarom, Lugera, Legrand, Macromex, Metro System, Mega Image, Michelin, Mylan Romania, MetLife, Medlife, Nestle, NN Asigurari de viată, Novainterment, Orange, Oracle, Omniasig, Piraeus Bank, Playwing, Prisum, Renault, Romstal, Romastru, Rohe Romania, Rewe Romania, Servier Pharma, Tenaris Silcotub, Timken, Urgent Cargus, Unicredit, Webhelp, Zentiva.
Taxa de participare 550 Lei + TVA (pana la 31 octombrie TVA 0). Folosește codul ZLM20 si beneficiezi de 20% reducere la înscriere.