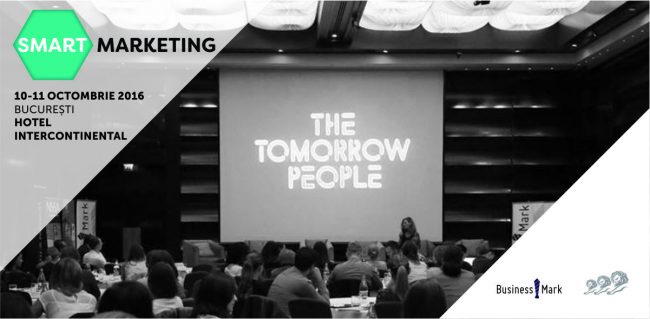 BusinessMark, in parteneriat cu Biroul Cannes Lions Romania, a pregatit o noua editie SMART MARKETING, eveniment ce va avea loc pe 10 -11 octombrie 2016, la Hotel InterContinental, din Bucuresti.
Abordarea centrata pe "veritabil" in construirea strategiei de marketing
In prima zi a evenimentului, discutiile se vor concentra in jurul ideii de AUTENTICITATE, accentuand importanta unei abordari centrate pe "veritabil" in construirea strategiei de marketing. Printre temele ce urmeaza a fi dezbatute in prima zi a evenimentului, enumeram:
 Autenticitatea in marketing: utopie sau realitate? Cum reperam brandurile "autentice" in peisajul actual de marketing? Cum atingem echilibrul in materie de continut si forma?
 Povesti autentice care ajuta brandurile puternice sa se conecteze cu consumatorii. Cum seduc brandurile oneste si cum ajung sa obtina "veritabilul" in materie de branding?
 Burden of proof. Poate fi demonstrata autenticitatea? Transparenta ca valenta a autenticitatii. Cat de util este sa invitam consumatorul "behind-the- scenes", in activitatea companiei?
 Relevanta intr-o lume comunicationala din ce in ce mai fragmentata. Content valoros prin marketing contextual – cum isi pastreaza brandurile esenta in mediul de business din ce in ce mai versatil?
 The power of trust. Importanta increderii in construirea unor customer journeys autentice
 Traditie si stabilitate – branduri solid ancorate in inimile consumatorilor. Cum si-au creat o istorie? Cum au ajuns sa creeze legaturi puternice cu audientele?
 Malvertising – vulnerabilitatea brandurilor
Temele vor fi dezbatute de specialisti in domeniu, precum:
 LUCIA ANTAL, Marketing Director, PRO TV
ADRIAN CHEREJI, Head of Marketing & Communication, UNTOLD Festival
MIRCEA TEACA, Consumer Healthcare Marketing Manager, Sanofi
ANDREI CHIRILA, Chief Marketing Officer, Fashion Days
ALEXANDRU BOGDAN, Marketing Director, Baneasa Shopping City
RAZVAN BARBULESCU, Channel Marketing Manager, IBM – Global Marketing Center Romania
IOANA IONESCU, Romania Marketing Manager, Cinema City
LIGIA ROSU, Marketing Manager, Austral Trade
ELENA BADEA, Partner & Senior Consultant, Sfera Business
Tips & tricks despre trendurile in comunicare globala
Discutiile zilei secundare se vor concentra in jurul Noului Consumator si al Viitorului Eficientei Creative. Ele vor fi ilustrate cu studii de caz de la Cannes Lions 2016, cel mai reputat eveniment dedicat gandirii creative la nivel global.
Cea de-a doua zi a evenimentului reuneste membri ai juriului si participanti activi la seminariile Cannes Lions pentru a oferi tips & tricks, informatii la zi si directii despre trendurile in comunicare globala. Printre acestia ii mentionam pe:
TEO MIGDALOVICI, founder The Alternative School for Creative Thinking
SZABI SZEKELY, CEO, Halcyon mobile, jurat la Cannes Lions 2016
ZELIA SAKHI, Head of Creative, Mobiento, Stockholm, jurat la Cannes Lions 2016
MIHAI FETCU, CD, Geometry, jurat la Cannes Lions 2016
RADU NANTU, ALEXANDRA BOMBITA – above 106
MARIO GAZEBRO, Member of Gold Winning Team, Lions Entertainment 2016
ELENA MARKOS, Manager, WGSN, UK
Evenimentul este organizat de BusinessMark, in parteneriat cu Cannes Lons Romania si cu sprijinul CCIFER, Graphtec Design si Biroul de traduceri Champollion.
Parteneri media: IAA, Ad Hugger, Social Media Romania, Zelist, Romanian Copywriter, Marketing Romania, Comunicat de presa.ro, Revista Bulevard, Jurnalul de afaceri, Promoafaceri, , Femei in afaceri, Business editors, Global Manager, Business Woman, StartUps, Business24, Ziare.com, Calendar evenimente, Legal Marketing, Avocatura.com, Transilvania Business, Finzoom Debizz, Administratie.ro, Roportal.ro, MLM News, Revista Valoarea, Bucuresteni.ro, Manager Express, Economia Online, Think Business, Chalbert, Antreprenor in Romania, Plan de afacere.ro, Rabbit Media, Ejobs si Vox Capital.
One Response to "Autenticitatea, Noul Consumator si Viitorul Eficientei Creative abordate la SMART MARKETING"
Mihai P Says:
September 7th, 2016 at 1:51 am

Se anunta un eveniment interesant, felicitari organizatorilor!