Traim intr-o tara care ne ofera toate motivele sa esuam. Cu toate acestea, in jurul nostru sunt oameni care demonstreaza, in ciuda tuturor piedicilor, ca si in Romania se poate sa reusesti. Ca si noi, romanii, stim sa facem performanta la nivel international!
Acesti oameni sunt invitatii editiei Zilele Biz din acest an. Oamenii care nu renunta si care inspira! Sunt cei care pot spune oricand "I shouldn't be alive!", dar care, iata, nu doar au supravietuit, ci au reusit in business, in ciuda tuturor piedicilor. Vino sa-i intalnesti la cel mai relevant eveniment business-to-business din Romania!
Cu ocazia implinirii a 15 ani de Zilele Biz, revista Biz te invita la cinci zile de prezentari, dezbateri si propuneri concrete pe cele mai dinamice domenii din economia romaneasca: Antreprenoriat, Inovatie, Management, CSR si Media & Marketing.
Ziua de Antreprenoriat
Intra in arena, alaturi de cei mai puternici antreprenori, pe 14 noiembrie!
De la strategii atent gandite la decizii ghidate de instinct, antreprenorii sunt o suma de contradictii unde succesul apartine celor dispusi sa invete din greseli. Vei afla cum gandesc, planifica si actioneaza antreprenorii romani. Vei asculta povestile celor care au reusit si stiu cum iti poti dezvolta afacerea. Afla secretul celor 470.000 de IMM-uri putere!
Printre vorbitori se numara: Radu Timis, CEO Cris-Tim; Iulian Stanciu, CEO eMAG; Sergiu Mircea, Director Marketing si Comunicare Banca Transilvania; Claudiu Vrinceanu, Secretar de Stat la Ministerul Economiei; Mihai Marcu, Presedinte CA MedLife si Marian Gazdik, Director Startup Grind Europe.
Ziua de Inovatie
Descopera inovatorii care schimba modul in care traim, pe 15 noiembrie!
Keynote speaker este Dumitru Popescu, Presedintele & CEO ARCA, care vorbeste in premiera despre trecerea de la "Racheta alba" la "placa zburatoare", ARCAboard si ARCA Mini.
In plan tehnologic, suntem in pragul revolutiei Internet of Things, in care toate obiectele din jur vor fi conectate, transformand modul in care traim. Faceti cunostinta cu oamenii din spatele acestei revolutii!
Intre vorbitori se numara: Antonio Eram, Founder & CEO Netopia; Norbert Hoelzle, Chief Commercial Officer SES; Dan Lazarescu, Senior Manager Bosch sau Bogdan Balaci, Director General Philips Lighting Europa SE.
Ziua de Management
Afla cum gandesc strategii cei care tin in maini destinele companiilor, pe 16 noiembrie!
Cei mai importanti CEO si top manageri isi dau intalnire la aceasta zi, iar Dr. Florin Munteanu, Presedinte al Centrului pentru Studii Complexe, va vorbi despre noua paradigma a Complexitatii si Managementul transformarii!
Intre invitatii zilei se mai numara: Consuela Dezso, Women's Career & Business Coach; Gabriel Pantelimon, Country General Manager Xerox Romania; Virginia Otel, President, Professional Women's Network Romania; Virgil Soncutean, Director General, Allianz-Tiriac Asigurari; Cosmin Vladimirescu, Country Manager, MasterCard; Gabriel Pantelimon, Country General Manager, Xerox Romania.
Ziua de CSR
Invata sa integrezi activitatile de CSR in strategia de business, pe 17 noiembrie!
Masurile izolate, cu impact pe termen scurt, nu mai sunt suficiente. Vorbim despre sustenabilitate integrata organic in strategia de business, despre relevanta fundraisingului peer-to-peer, Directiva 95, dar si despre tot ceea ce trebuie sa stiti despre activitatile de CSR, de la asocierea cu obiectivele civice la masurarea impactului lor.
Intre vorbitorii zilei se numara: Tiberiu Mercurian, Director Marketing Alpha Bank;
Veronica Dogaru, Corporate Communications Manager, Orange Romania;
Mirela Nemtanu, director executiv, HOSPICE Casa Sperantei; Roxana Sunica, Director Marketing, Asociatia Recolamp si Gabriel Solomon, co-initiator Galantom.ro.
Ziua de Media & Marketing
Povestile pe care brandurile le transmit au nevoie de continut si modele "out of the box".
Fragmentarea consumului de media si diversificarea platformelor deschid noi orizonturi in strategiile de comunicare ale brandurilor. Nu mai putem insa discuta in paradigma offline versus online. Nu mai conteaza mediul, ci puterea povestilor pe care brandurile le pot transmite.
Intre vorbitori zilei se numara: Adrian Botan, Global Executive Creative Director, McCann Worldgroup; Mihai Gongu, Creative Director, GMP; Anca Ungureanu, Head of Identity & Communication, UniCredit Bank; Radu Moldovan-Petrut, Marketing Director, Pernod Ricard Romania; Valentin Suciu, Creative Director, Jazz; Laura Barbu, Brand & Marketing Communication Director, Vodafone, Radu Atanasiu, Adjunct Lecturer of Critical Thinking, Maastricht School of Management Romania, Denisa Mihai, PR & Advertising Manager Romania and Moldova, Avon Cosmetics si Beata Biel, Media Trainer Specialist, Google News Lab Europa Centrala si de Est.
Evenimentul Zilele Biz se adreseaza persoanelor de decizie din companii, antreprenorilor, managerilor inovatori, publicitarilor si tuturor celor care doresc sa-si dezvolte afacerea si sa se conecteze la o audienta de business de top.
Evenimentul se afla la cea de-a 15-a editie si va avea loc in perioada 14-18 Noiembrie, la Hotel Novotel, Bucuresti. Detalii despre speakerii prezenti la editia de anul acesta si programul evenimentului gasiti pe www.zilelebiz.ro si pe Facebook event.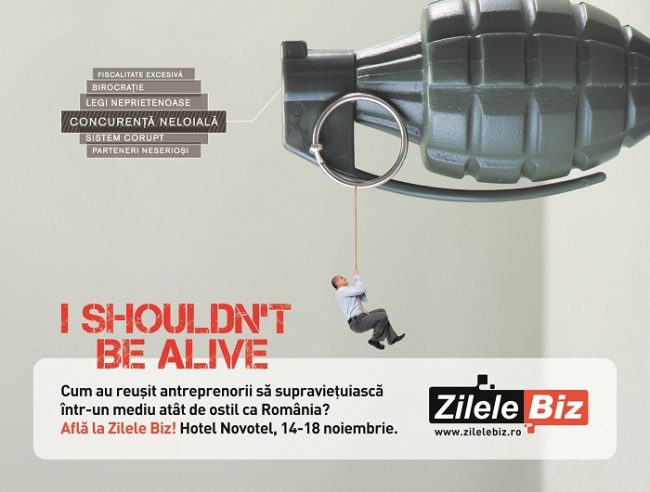 One Response to "Vino la Zilele Biz si intalneste oamenii care fac performanta!"
Zelist Blog » Blog Archive » 03 – 09 noiembrie 2016 – Saptamana in Social Media Says:
November 14th, 2016 at 11:32 am

[…] la Zilele Biz si intalneste oamenii care fac performanta, 14 – 18 noiembrie 2016, Hotel Novotel, […]