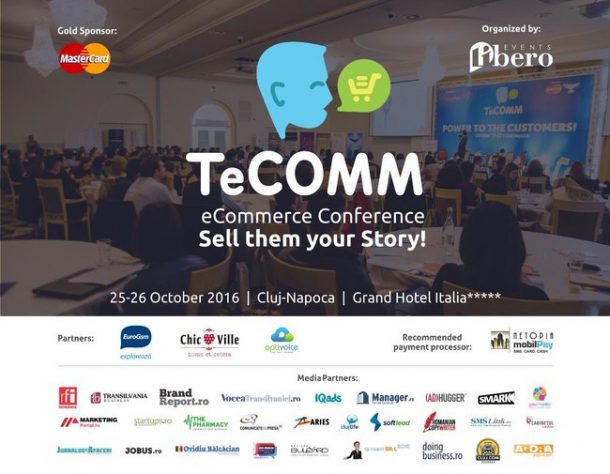 Cluj-Napoca gazduieste cea de-a 9-a editie TeCOMM eCommerce Conference & Expo in 25- 26 octombrie 2016 la Grand Hotel Italia din Cluj-Napoca. Evenimentul dedicat industriei comertului electronic targeteaza peste 300 proprietari de magazine online, alaturi de furnizori ce ofera produse, servicii si solutii de eCommerce.
Sell them your story este tema centrala din acest an prin care top playerii din online, reprezentanti ai companiilor din partea de vest a Europei si speakeri de renume din tara vor analiza ce se afla in spatele povestii de succes – de la structura site-ului, cosul de cumparaturi, tool-urile folosite, strategiile adoptate, campaniile si bugetul investit pana la transformarea din UX in CX si fidelizarea ulterioara a clientului.
TeCOMM este despre invatare, colaborare, experienta si schimb de cunostinte, deci planuiesc sa ofer si sa preiau our next big idea – Jonathan Chippindale, Holition
Marea Britanie este recunoscuta ca fiind una dintre tarile de referinta pentru piata de eCommerce, alaturi de Germania si Franta. Piata europeana online este dominata de UK, aflata pe primul loc, cu cresteri de 16,2% in anul precedent si 14,9 % pana in prezent, potrivit centrului de cercetare Retailresearch.
Printre cei peste 30 speakeri prezenti la TeCOMM eCommerce Conference se numara si specialisti din UK, precum Jonathan Chippindale, directorul executiv al Holition, ce va vorbi in aceasta toamna despre storytelling in era digitala, subiect aflat in tendintele actuale ale eCommerce-ului.
Mitchell Allan Goldman (Head of Product & Partnerships Storegecko) si Hando Sinisalu (CEO & Founder Best Marketing International) au confirmat deja prezenta la eveniment.
De ce este nevoie de informare constanta in eCommerce?
La nivel national exista peste 8000 de magazine online, conform estimarilor platformei operationale Frisbo, cifra in continua crestere. In cadrul TeCOMM, proprietarii magazinelor online isi dezvolta afacerea prin participarea la peste 25 de prezentari, workshop-uri si dezbateri, dar intalnesc si furnizorii de servicii in zona expozitionala. Inscrierile la editia din aceasta toamna au inceput deja pe site-ul evenimentului: http://www.cluj.tecomm.ro.
Conferinta TeCOMM a reunit in 5 ani peste 1400 de participanti, 250 de prezentari, workshopuri si dezbateri si peste 180 de speakeri nationali si internationali. Evenimentul este organizat de Libero Events, agentia de evenimente si PR, B2B si B2C, sub semnatura careia au loc conferinte si workshopuri:
The Woman,
HR Summit,
TeCOMM,
MarkDay,
Architecture,
Software Architecture Day,
Digital Travel Forum,
Fiscalitate 24.7,
Cluj Sales Conference,
Signal Connect, dar si
targuri: Touristica.
Partenerii evenimentului sunt:
Gold Sponsor: Mastercard
Recommended Payment Processor: MobilPay
Parteneri: Chic Ville, EuroGSM.
2 Responses to "Top playerii magazinelor online isi vand povestile in aceasta toamna!"
Zelist Blog » Blog Archive » Saptamana aceasta in Social Media 28 iulie- 3 august Says:
July 28th, 2016 at 3:51 pm

[…] eCommerce Conference & Expo sau cum sa iti vinzi povestea, in octombrie, la […]

Zelist Blog » Blog Archive » Saptamana aceasta in Social Media Says:
July 28th, 2016 at 4:19 pm

[…] eCommerce Conference & Expo sau cum sa iti vinzi povestea, in octombrie, la […]