Pe măsură ce modelele de lucru hibride și flexibile tind să devină o nouă normalitate pentru multe companii, deficitul de talente și demisiile în lanț au transformat drastic forța de muncă la nivel global. Astăzi a devenit crucial pentru companii să prioritizeze experiența pe care o au angajații la locul de muncă și să își adapteze beneficiile pentru a rămâne competitive într-o piață în continuă schimbare.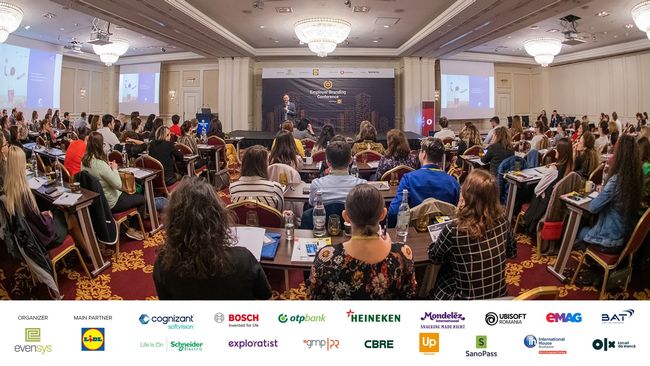 Pe 29 septembrie 2022, Employer Branding Conference aduce în prim-plan provocările, dar mai ales soluțiile pentru arhitecții brandurilor de angajator din România. Cel mai important eveniment de profil strânge la Hotel JW Marriott București comunitatea oamenilor din resurse umane implicați în construirea imaginii și motivarea angajaților în companii medii și mari.
Cu un program întins pe mai multe ore, mixând dezbaterile cu prezentările, conferința aduce în prim-plan reprezentați ai unor branduri recunoscute și practicieni apreciați, care vor aborda subiecte actuale, vor dezvălui secretele din spatele campaniilor de employer branding și vor prezenta studii de caz în exclusivitate.
Prezenți la această ediție vor fi:
Mihaela Ioniță (Director Național de Resurse Umane, Lidl România)
Lia Apostol (Head of Marketing & Communications, Romania, Cognizant Softvision)
Diana Mișa (Director Executiv Resurse Umane, OTP Bank România)
Anca Lăzăroiu (HR Director, Ubisoft România & Serbia)
Cosmin Dodoc (VP People & Organisation, eMAG)
Adina Vidroiu (HR Director, Microsoft România, Grecia, Cipru & Malta)
Cristina Mancaș (Vice Președinte Resurse Umane, Schneider Electric Europa de Sud Est)
Cristina Hanganu (Director de Comunicare & CSR, Lidl România)
Ana Crivăț (Director of Corporate Affairs, HEINEKEN România)
Simona Berbec (Market HR Lead în România, Ungaria, Cehia & Slovacia, Google)
Silviu Andrei Petran (Managing Director, Exploratist)
Flavia Bucerzan (Employer Branding Manager, Bosch România)
Gabriela Niță (HR Director, Up România)
Crina Ardeleanu-Coblas (Employer Branding Manager, BAT)
Dana Dobrescu (Corporate & Government Affairs, Mondelēz România)
Ioana Mucenic (CEO, Minio Studio)
Ioana Ciobotariu (Communications Manager, Ubisoft România)
Bogdan Badea (CEO, eJobs Group)
Mirela Tănase (Senior Partner – Enterprise & Strategic Accounts, Exploratist)
Octavian Gheorghe (Creative Director & Head of Social Media, GMP PR)
Delia Iliasa (Managing Partner, SanoPass)
Arch. Mihaela Topor (Senior Workplace Consultant | Office, CBRE România)
Ana-Maria Vasile (Talent Executive Romania, BAT)
Laura Roșca (Qualitative Research Director, iSense Solutions)
Magor Csibi (Head of Leadership & Organizational Culture Practice, Trend Consult)
Andrei Ion (Managing Director, SHL România – The Talent Assessment Company)
Mădălina Uceanu (Managing Partner, Career Advisor)
Gala de premiere Employer Branding Awards
Începând cu ora 19:00, comunitatea specialiștilor în resurse umane își dă întâlnire la Employer Branding Awards, gala de premiere a celor mai importante proiecte și campanii de employer branding din România. Aflată la prima ediție, competiția a însumat 15 categorii în concurs și peste 100 de nominalizări, care au fost apreciate de peste 35 de jurați.
Pe lângă conținutul relevant din cadrul conferinței și gala de premiere a celor mai bune proiecte de employer branding, evenimentul oferă nenumărate ocazii de socializare cu vorbitorii invitați, dar și cu alți profesioniști din domeniu prezenți la eveniment.
Mai multe detalii despre program, invitați și participare sunt disponibile pe site-ul oficial al evenimentului: www.employerbrandingconference.ro.
Employer Branding Conference este un eveniment organizat de Evensys în parteneriat cu Lidl România și cu sprijinul Cognizant Softvision, Bosch România, OTP Bank România, HEINEKEN România, Mondelez International, Ubisoft România, eMAG, BAT, Schneider Electric, Exploratist, GMP PR, CBRE, Up România, SanoPass, International House Bucharest și OLX Locuri de muncă.
Despre EVENSYS
EVENSYS este o companie de planificare de evenimente, cu peste 15 ani de experiență în organizarea de evenimente business. Evensys este specializată exclusiv pe dezvoltarea de conferințe și de seminarii proprii, ce acoperă șapte domenii de activitate: Marketing & Comunicare, Internet & New Media, Financiar & Investiții, HR, Real Estate, Production și Retail. Evenimentele organizate tratează tematici actuale, care privesc atât industria de business locală, cât și cea din Europa Centrală și de Sud-Est.
Leave a Reply