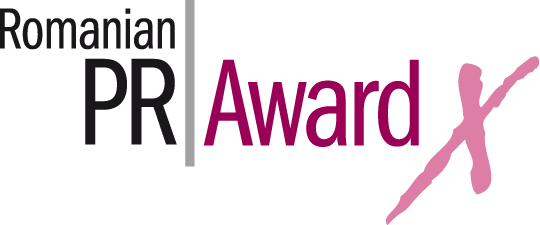 Se implinesc in aceasta toamna 10 ani de celebrare a excelentei in relatii publice, 10 ani de Romanian PR Award, un proiect durabil, "incapatanat" si perseverent care a reusit sa adune an de an sub aceeasi umbrela parteneri institutionali prestigiosi, nume marcante ale breslei comunicatorilor, concurenti valorosi si zeci de tineri aspiranti la o cariera in PR.
Romanian PR Award s-a dorit o arena a performantei in comunicare, locul de intalnire al celor care raspund provocarii de a se confrunta cu rigorile profesiei.
Editia aniversara aduce cu sine si relansarea site-ului competitiei, la adresa www.praward.ro, un portal care centralizeaza, pe langa informatiile aferente inscrierii in competitie, arhiva campaniilor finaliste la editiile precedente, o cazuistica extrem de utila tuturor profesionistilor si aspirantilor la o cariera in PR.
Categoriile evenimentului
1) Premii de excelenta
Comunicare corporatista
PR pentru marketing
Comunicare pentru administrarea crizelor, a riscurilor si a oportunitatilor
Digital PR si Social Media
Comunicare interna
Responsabilitate sociala (CSR) si dialog cu grupurile co-interesate
Comunicarea proiectelor de mediu
Media Relations
Public Affairs/ Advocacy/ Lobby
Comunicare financiara
Organizatii non-guvernamentale. Societate civila
Comunicare in domeniul public
Comunicarea produselor si serviciilor financiare
Comunicarea produselor si serviciilor medicale
Buget – / creativitate +
2) Diplome de excelenta care recunosc excelenta in conceperea si realizarea unor instrumente de comunicare creative si eficiente, menite sa faciliteze procesele de comunicare
Website / Intranet / Blog
Evenimente
Newsletter Intern
Raport anual
Kit de presa
Publicatii externe
Sponsorship
Productii video
3) Junior PR Award sectiunea adresata viitorilor specialisti in PR.
In afara premiilor pe categorii, juriul international va acorda distinctiile: PR Agency of the Year si Communicator of the Year.
Inscrierea la competitie
Inscrierile la editia aniversara se vor incheia luni, 24 septembrie 2012.
Editia din acest an sta sub semnul cresterii si diversificarii: un juriu international de top, 24 de categorii de concurs, posibilitatea de a inscrie o campanie in cadrul mai multor sectiuni, depunerea aplicatiilor doar in format online – sunt doar cateva noutati ale acestei editii.
Formularele de inscriere pot fi descarcate de la adresa www.praward.ro/inscriere.
Proiectele vor fi jurizate in perioada 1-15 octombrie, iar Gala Romanian PR Award va avea loc in seara zilei de 25 octombrie, la Palatul Parlamentului.
Jurizarea competitiei
Jurizarea competitiei este asigurata de reprezentanti ai agentiilor globale Edelman, Burson-Marsteller, Ketchum Pleon, Grayling , MSL GROUP, Hill+Knowlton, Fleishman-Hillard, Gagen MacDonald, directori de comunicare ai companiilor BCR, Ursus, Coca Cola Hellenic, Raiffeisen, Romtelecom, AVON, Philips, Petrom, Pfizer, Rompetrol, Siemens, Hitachi, real – Hypermarket, executivi ai agentiilor locale de PR – McCann PR, Brandient, The PRACTICE, GMP PR, Graffiti PR, DC Communication, Free Communication precum si consultanti independenti, cercetatori si reprezentanti ai organizatiilor internationale de profil – US Institute for Public Relations (IPR), CSR Europe, International Communications Consultancy Organization (ICCO) si AMEC.
Mai multe detalii despre competitie gasiti pe www.praward.ro.