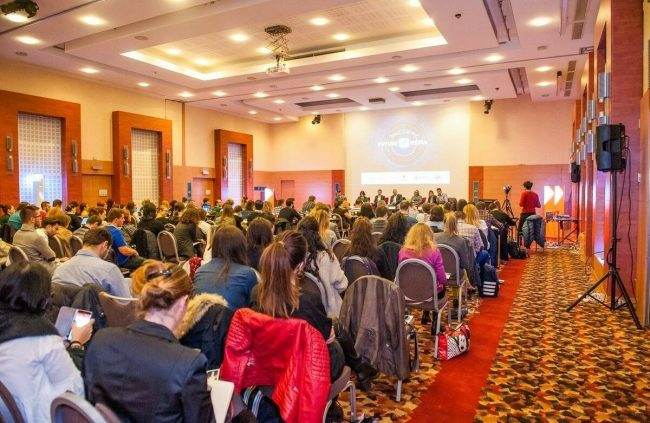 Future of Media, conferinta dedicata celor mai noi tendinte in media, digital si marketing, revine pe 23 noiembrie, la Ramada Parc Hotel, Bucuresti. Cea de-a cincea editie a conferintei se va desfasura pe parcursul unei zile intregi si va aduce mult know-how cu relevanta locala, idei noi si abordari proaspete in marketing si mediul online.
PATRU SESIUNI
New and old challenges for marketers – o privire asupra modului in care se schimba media, ce influenteaza consumatorul si mai ales care este impactul digitalului in comunicarea dintre brand-uri si clientii lor.
Major trends with big impact in marketing world – o sesiune despre lumea tendintelor actuale, influentate de diversitatea media, de cresterea canalelor digitale si de provocarile actuale ale oamenilor de marketing si media de pe piata locala.
Behind the scenes of highly creative digital campaigns – o interpretare a creativitatii in era digitala, pusa in scena de actorii unor campanii inedite.
How to run a succesful influencer marketing campaign – o discutie despre cum alegem influencerii, cum ii integram in campanii si care este rolul lor in mixul de comunicare.
Future of Media te provoaca sa vii cu mintea deschisa la un eveniment consistent, unde sa iti actualizezi baza de cunostinte pentru 2018 si sa gasesti idei inedite pentru noi campanii.
VORBITORI RECUNOSCUTI
Evenimentul reuneste specialisti din arii diverse, precum: online publishing, advertising, digital, pentru a expune provocarile si oportunitatile industriei, cele mai noi tehnologii din domeniu si impactul lor asupra modului in care se vor desfasura campaniile in 2018.
Printre vorbitorii acestei editii se numara: Gabriela Lungu (Wings Creative Leadership Lab), Anca Ungureanu (UniCredit Bank Romania), Valentin Suciu (Jazz Communication), Alina Cinciulescu (Global Records), Denisa Mirea (Avon Romania si Moldova), Andreea Lupu (Starcom), Lorand Balint (Platypus Group), Dragos Stanca (Thinkdigital), Laurentiu Dumitrescu (Digital Star), Raluca Kisescu (Creative Marketing Strategist). Lista completa a speakerilor, precum si programul sunt disponibile pe www.futureofmedia.ro.
INSCRIERI
Inscrierile la acest eveniment se pot face direct pe site. Bloggerii beneficiaza de participare gratuita, prin completarea formularului disponibil pe site-ul oficial.