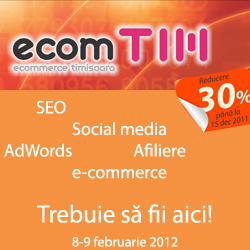 In perioada 8 – 9 februarie 2012 va avea loc cea de-a doua editie a evenimentului ecomTIM, in cadrul caruia lideri din industria e-commerce vor prezenta informatii esentiale despre social media, SEO, AdWords si alte tipuri de marketing online.
De ce sa participi?
Vor fi doua zile discutii si workshop-uri axate pe inovatie, eficienta si profit, temele prezentate fiind selectate astfel incat atunci cand te intorci la serviciu vei sti care sunt solutiile si instrumentele disponibile pentru afacerea ta.
Esti jurnalist sau blogger?
La ecomTIM 2.0.12 poti intervieva speakerii prezenti face to face, faci blogging si relationezi cu cei care fac regulile in online-ul romanesc.
Dintre vorbitorii de anul acesta, ii putem enumera pe Przemek Puta, Regional Manager pe Europa Centrala si de Est al PayPal, Michel Goossens, General Manager pe Europa Magento, Gillian Muessig, presedinte fondator al SEOmoz, Sean Singleton, Group Managing Partner si co-fondator al agentiei londoneze Skive, Dan Bulecea, Country Manager Google Romania, Cristian Manafu, Owner&Consultant The Connecter, Cosmin Costea, eCommerce Manager, Metro Cash&Carry.
Aici poti vedea lista completa a speakerilor confirmati pana in acest moment.
Inscrie-te acum pentru a beneficia pana la data de 15 decembrie 2011 de un discount de 30% din pretul biletului.