Ti-i amintesti pe Marty McFly si Doc Brown, protagonistii din "Back to the future"? Atunci stii despre calatoria lor in timp, inceputa pe 26 octombrie 1985, cu destinatia 21 octombrie 2015. Da, "Back to the future day" se intampla acum.
Lasa-ti amprenta printr-un mesaj pe blog, Twitter sau Instagram, cu tag-ul #backtothefutureday si poti castiga o sticla de vin din '85. Alb sau rosu, asa cum il doresti.
Ai timp pana pe 21 octombrie, la ora 23:59, cand DeLorean-ul se intoarce in garajul lui Doc.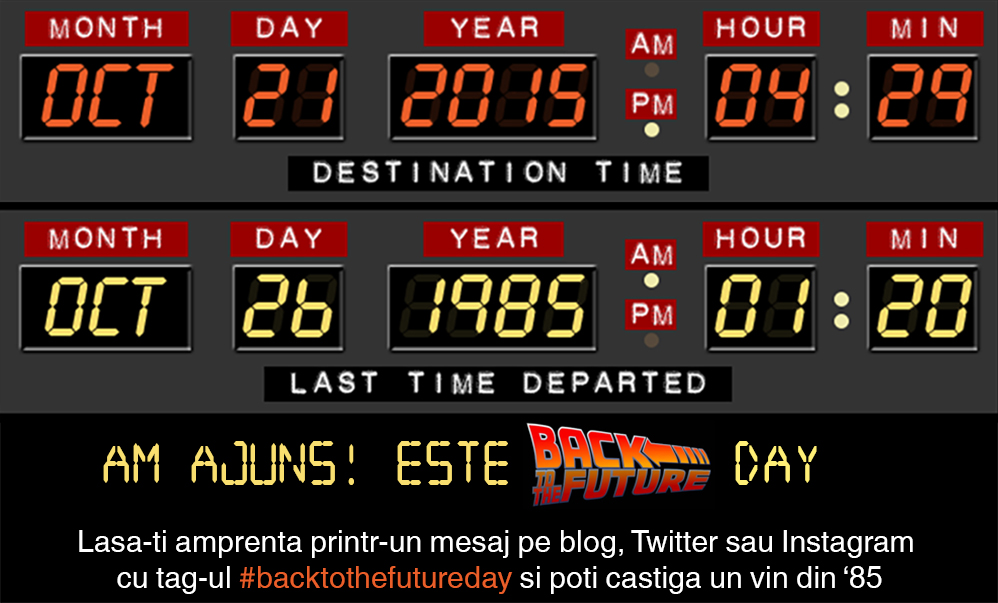 3 Responses to "Am ajuns pana aici, dar cum ne intoarcem inapoi in '85?"
alexsavescu Says:
October 20th, 2015 at 8:18 pm

#backtothefutureday

dimitrie selu Says:
October 21st, 2015 at 3:21 pm

Am ajuns sa traim si ziua aceasta. #backtothefutureday

Ciprian Says:
October 23rd, 2015 at 8:47 am

Pentru un vin din '85 cred ca as face o calatorie in #backtothefutureday